'Miss Peregrine's Home For Peculiar Children' Trailer: Tim Burton Returns With More Lovable Oddballs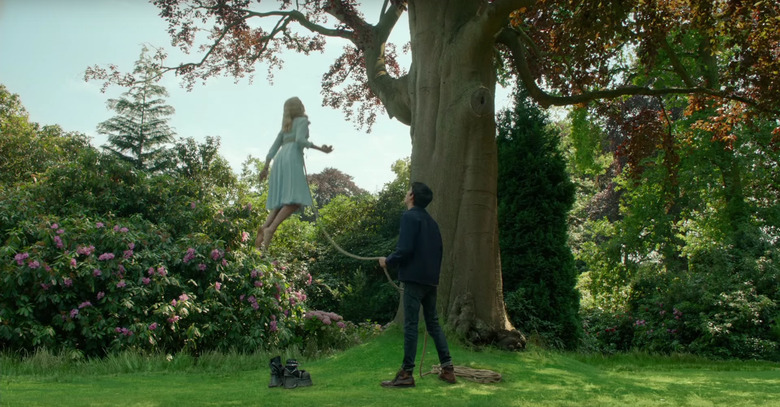 Tim Burton's Wonderland is in the hands of James Bobin now, but that's okay because he's been busy constructing a different fantasy getaway. Miss Peregrine's Home for Peculiar Children reunites him with Eva Green, the best part of his otherwise disappointing Dark Shadows, while Asa Butterfield (who already looks like a Tim Burton character come to life) plays the young hero in this adaptation of Ransom Riggs' hit novel.
The story concerns a seemingly ordinary young man named Jake who discovers a secret hideout run by the titular Miss Peregrine. She watches over a group of children with unusual abilities — think of them as sort of an old-timey X-Men, minus the compulsion to keep saving the world. But a dark force is lying in wait, and Jake is tasked with defending Miss Peregrine's children. Watch the first Miss Peregrine's Home for Peculiar Children after the jump. 
Burton's past few years have been uneven, to say the least. Alice in Wonderland made tons of money, even if critics were somewhat divided on it, but Frankenweenie and Big Eyes (the latter of which was a biopic that took him outside his usual wheelhouse) got mixed reviews and did middling box office. And Dark Shadows was a disappointment on both fronts. Miss Peregrine's Home for Peculiars, fortunately, looks like it puts Burton right back where he's most comfortable: constructing intricately detailed fantasy-lands for lovable oddballs.
Miss Peregrine's Home for Peculiar Children opens September 30, 2016.
From visionary director Tim Burton, and based upon the best-selling novel, comes an unforgettable motion picture experience. When Jake discovers clues to a mystery that spans alternate realities and times, he uncovers a secret refuge known as Miss Peregrine's Home for Peculiar Children. As he learns about the residents and their unusual abilities, Jake realizes that safety is an illusion, and danger lurks in the form of powerful, hidden enemies. Jake must figure out who is real, who can be trusted, and who he really is.