Dan Trachtenberg Talks Possible 'Cloverfield Lane' Sequel, 'Crime Of The Century' & 'Y: The Last Man'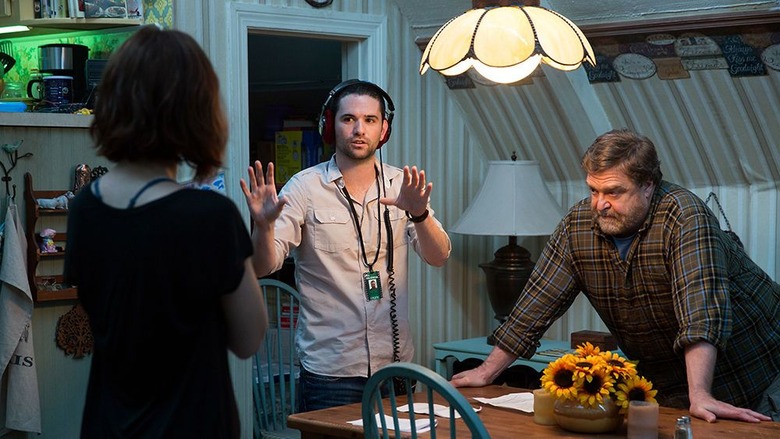 10 Cloverfield Lane opened this weekend to an estimated $25.2 million domestically, which a huge success considering the film's low-budget price tag. So fans are already wondering if Bad Robot could end up giving the film a proper sequel. When I chatted with 10 Cloverfield Lane director Dan Trachtenberg late last week, I talked to him about the possibility of a 10 Cloverfield Lane sequel.
And everyone is wondering what the filmmaker might be doing next, so we spoke a little bit about that. We learned about his time travel heist film Crime of the Century which is being developed at Universal, and also about what happened to the Y: The Last Man movie and what his film version of the comic book series might have been.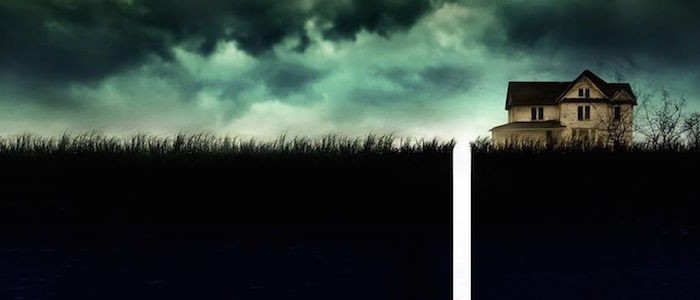 SPOILER WARNING: If you haven't yet seen 10 Cloverfield Lane, skip to the next question (after the Inception image) as we very vaguely discuss the ending possibilities of the film.
I think it's fair to say that 10 Cloverfield Lane leaves room for more story and a possible sequel, but would the filmmaker even be interested in returning for another installment? I asked Trachtenberg whether he would he like to make a sequel to this film if given the opportunity, and here is what he said:
Honestly, I always fantasized when making [a sequel] and even before we had shot the movie like oh my God, how cool would it be to make the next one? And the way that Aliens is to Alien, you know. But or it could be a different genre. It could be a whole different movie, but with the same badass protagonist that was forged in the flames of this one. But I also feel like it would be equally badass if there wasn't a sequel to this. Like there's just something so cool about the idea that it, that you've been on this adventure with this character and she makes a decision at the end and we know what that decision means, but don't ever actually get a chance to see what that decision, what becomes of it. I think is equally cool. Like yeah, we know it feels like this was very much an origin story. This is all you're gonna get.
And would it be called 11 Cloverfield Lane? Dan laughed at the idea.
Probably not called 11 Cloverfield Lane.  'Cause it would be really ironic if she, the next place she heads to is just the next house over.
I kind of love the idea of a really bad ridiculous Jaws: The Revenge version of the sequel, where she just happens to ends up at 11 Cloverfield Lane with another seemingly crazy guy with a bunker... or maybe this time a safe room. Okay, maybe the idea is better left as a joke or maybe a fake VHS movie on the shelf in Howard's bunker.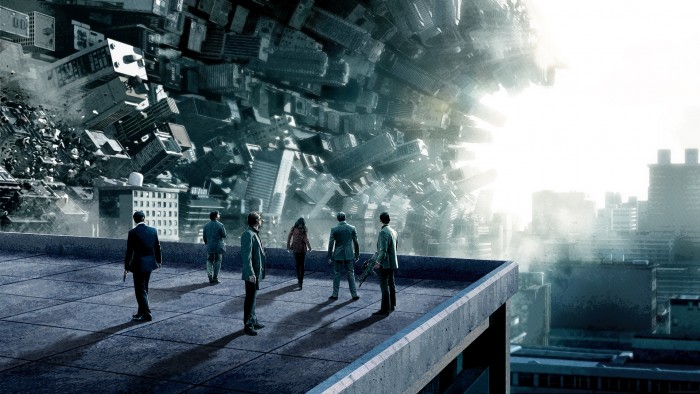 Following the release of his viral short film Portal: No Escape, Universal Pictures and screenwriter-turned-producer Chris Morgan (Wanted, Fast Five, 47 Ronin) quickly acquired Trachtenberg's time travel action heist film Crime of the Century. Trachtenberg has been actively developing the idea into a movie since the 2011 acquisition with screenwriter Daniel Kunka (12 Rounds), and later Annabelle scribe Gary Doberman. What's going on with Crime of the Century? And what is the film even about, as not much information has been released about the project? Trachtenberg gave us an update:
Crime of the Century is a badass time travel heist movie. And I'm desperate to make it. It's still in development. Hopefully now that I've finished up with this, I could swing back into that and I would love to make that next. It's a really original, very unique, exciting action movie that's as smart as it is fun. So I would hope that I get a chance to make it.
The project was announced in 2011, before he started work on 10 Cloverfield Lane (then titled Valencia). So why has it taken so long to get it going? Trachtenberg reminds us that when he sold the project to Universal, he did so based on just the mind-bending idea — they didn't have a script.
Writing, just writing.  Time travel movies are very complicated. ... We just pitched the story.  And I had a little sizzle reel made for it.  And that's what sold.  Just the idea.  And so yeah, we've been working on it ever since.  Hopefully we'll be able to get back into it.
I've seen many people predicting on social media that following this impressive feature debut, Trachtenberg could be snapped up for a Marvel movie or a future Star Wars film. As much as I'd love to see a Trachtenberg-directed Star Wars movie, I would actually rather see what Crime of the Century could be. I'm a big time-travel movie fanatic and what I've heard of his concept sounds fascinating and unprecedented.
Learn about Dan Trachtenberg's Y: The Last Man movie, on the next page.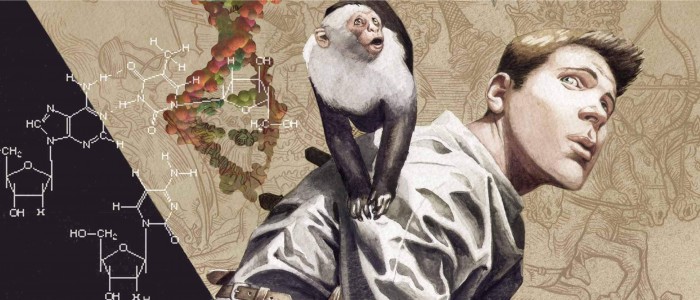 As for his adaptation of Y: The Last Man, we know that New Line lost their option to turn the Brian K. Vaughan comic book series into a movie just as Trachtenberg was nearing a green light.
I loved so much what we were doing with that and I loved working on it with everyone. But the rights sort of dried up and we still hadn't quite nailed the movie. And I think now Brian is trying to make it a TV show. It's funny that's what I wanted when I first read it and everyone the whole time always felt like, oh I wish this could be a TV series. I was actually really excited to make it a movie because we have so much great TV. And in fact I think we have a lot of great TV that have been inspired by Y: The Last Man and things like it. So I was excited to bring something like that to the big screen. Something that was so character oriented and had something to say, but that could also be really exciting, especially expanding on that on the big screen. But I'm sure it'll be an awesome TV series as well. So...
And now after seeing 10 Cloverfield Lane, I wondered again what a Dan Trachtenberg Y: The Last Man movie might even look like. Dan was happy to entertain the idea of what could have been:
It was very much a combination of the first two trades, the first movie was going to be. And it combined some characters in the story. Some of the threats into one... It combined some of the threats. But I looked a lot at Big Trouble in Little China for inspiration, 'cause that's a movie where the protagonist is actually the sidekick and Yorick is very much the sidekick to much stronger, capable heroes being women. And Raiders of the Lost Ark was a major influence 'cause it really was fun to dig into some set pieces that in the comic were just a couple pages, but or a splash page even and for us would be a whole sequence. So in the comic there's a splash page where they're on a train and they're getting robbed by bandits. And that's sort of the end of it. But for us that was a full sequence. That was a whole like throwback to a Great Train Robbery and Wild Wild West, but in a modern train. And just digging into that was super fun.
We'll have a lot more from our interview with Dan Trachtenberg throughout the week. 10 Cloverfield Lane is still in theaters, so if you haven't seen it yet, find the loudest screen near you and buy a ticket.