AMC's 'Preacher' Sets Premiere Date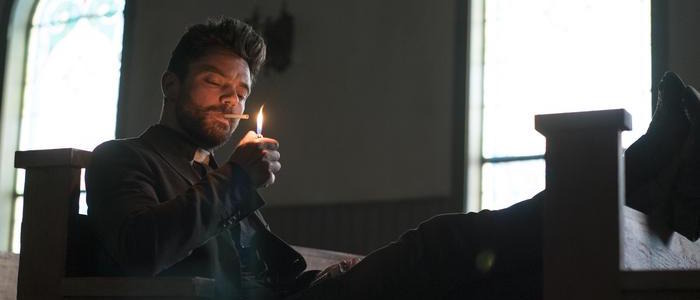 It's been a long, long journey to the screen for Preacher. First the Garth Ennis and Steven Dillon comic book series was going to be a film (with James Marsden attached to play the lead at one point), and then it was going to be an HBO series, and then it was going to be a movie again (this time with Sam Mendes and then D.J. Caruso linked to the directing gig), and then, finally, about two years ago, AMC got the ball rolling on a TV adaptation with Seth Rogen and Evan Goldberg on board to write and executive produce.
Now that show is finally just about ready for prime time, as AMC has officially announced the Preacher premiere date. Here's a hint: it'll (hopefully) get a big boost from Fear the Walking Dead fans. Get all the details on the Preacher premiere date below. 
AMC has set the Preacher premiere for Sunday, May 22 at 10 PM ET/PT, following the midseason finale of Fear the Walking Dead season 2. The following week will bring an encore presentation of the pilot presentation with back-to-back airing starting Sunday, May 29 at 9 PM ET/PT. And then new episodes will resume Sunday, June 5 at 9 PM ET/PT, with Sundays at 9 serving as the show's permanent home for the rest of the season. The first season will consist of 10 episodes in all.
Here's the Preacher synopsis:
"Preacher" is a supernatural, twisted and darkly comedic drama that follows a West Texas preacher named Jesse Custer, who is inhabited by a mysterious entity that causes him to develop a highly unusual power. Jesse, his badass ex-girlfriend Tulip and an Irish vagabond named Cassidy come together and when they do, they are thrust into a crazy world populated by a cast of characters from Heaven, Hell and everywhere in between.
As you'll already know if you've been keeping up with the development of this series, Dominic Cooper plays Jesse Custer, Ruth Negga is Tulip, and Joseph Gilgun is Cassidy. Also starring are Lucy Griffiths as Emily, W. Earl Brown as Sheriff Root, Anatol Yusef as DeBlanc, Tom Brooke as Fiore, Derek Wilson as Donnie Schenck, Ian Colletti as Eugene Root a.k.a. Arseface, and Jackie Earle Haley as Odin Quincannon.
Although Rogen, Goldberg, and showrunner Sam Catlin clearly have a lot of affection and respect for the source material, they've shown a willingness to mix things up for the show — with Ennis' enthusiastic blessing. "We talked with Garth and Garth very much encouraged us to make a lot of small changes and make it a good show first and foremost," said Goldberg earlier this year. "We want fans to get everything they loved of the comic and still get some twists and turns."
While you mull that over and look ahead to the show's May debut, here's a new poster to gawk at.