J.J. Abrams Worked On An Outline For A 'Who Framed Roger Rabbit?' Sequel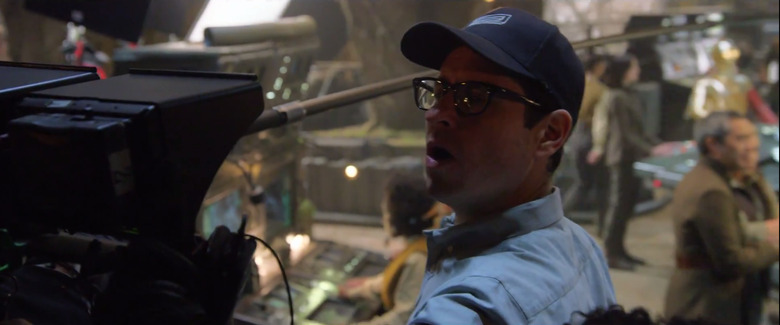 Director Robert Zemeckis has been considering a Who Framed Roger Rabbit? 2 for years now. We've never heard much regarding the sequel, since the director usually remains tightlipped about the project, but every once in a while we get an update. This isn't news on its current status, but instead a cool little piece of movie history.
In the late '80s, Star Wars: The Force Awakens director J.J. Abrams had a discussion with producer Steven Spielberg about possibly writing the sequel.
To promote 10 Cloverfield Lane – which you should all go see this weekend — director Dan Trachtenberg and Abrams appeared on the Nerdist podcast. It's an excellent 90-minute interview, with Abrams discussing a pivotal piece of additional photography on Star Wars: The Force Awakens, his collaboration with Trachtenberg, and his desire, unlike maybe some other mega successful directors, not to surround himself with "yes" men.
Towards the very end of the interview, Abrams is asked whether he considers Lucasfilm's Kathleen Kennedy a mentor. The director ended up telling a great story about talking to Kennedy as a teenager, but along the way, he mentioned meeting Steven Spielberg to discuss Who Framed Roger Rabbit 2?:
I've told this story before, but when I was 16 Kathleen Kennedy called Matt Reeves (Dawn of the Planet of the Apes) and I, to ask if we would repair these 8mm films Steven had made when he was a kid. It happened because we were in a film festival and she had read about us in the LA Times. So, of course, we said yes and did the repairs. Years later I got to meet Steven. I went into a meeting...actually, it was for a Roger Rabbit sequel. It was a whole thing. I actually have some storyboards for a Roger Rabbit short. Honestly, we never really got to that phase [where it got serious]. We were writing an outline, but it honestly went away before it was anything. This was a long time ago. Zemeckis probably would've been a producer on it. This was 1989.
The meeting for Who Framed Roger Rabbit? 2 was so long ago Abrams doesn't remember the specifics of the outline, but he recalls that they wanted to make a short film before getting to the sequel:
We were talking about the movie, but they had an idea for this short. I remember going to the animators — and I had never seen an animation pitch before — and they took me through it. There were three giant boards, and with a stick, they'd point to one of the storyboards and perform every frame. For someone who knows animation, you think, 'Yeah, that's what they do,' but having never seen it before, it was unbelievably entertaining watching these two men perform, doing the voices.
At the end of the meeting, Spielberg said he remembered Abrams repaired his old 8mm films, and almost 30 years after Abrams got a call about fixing them, he received another call from Kennedy, but that time she asked him to direct Star Wars: The Force Awakens, not to repair some old 8mm films. Talk about a career coming full circle.