'One More Time' Trailer: Christopher Walken And Amber Heard Butt Heads, Make Music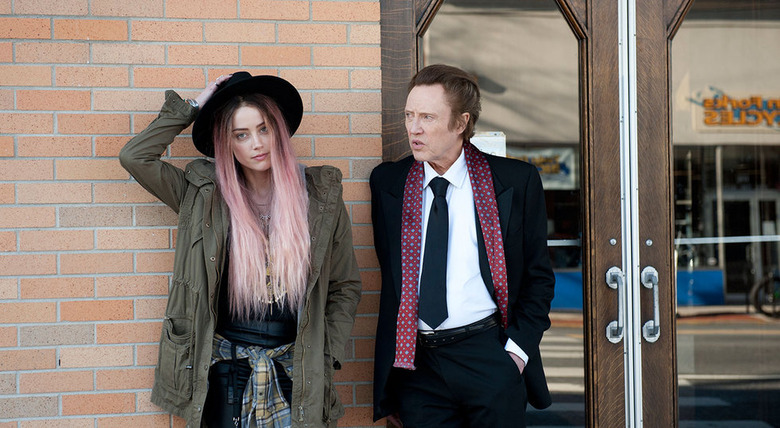 Despite his song-and-dance background, Christopher Walken didn't fare too well as Captain Hook in NBC's live staging of Peter Pan. But his turn as a Sinatra-esque crooner in One More Time already looks more convincing, at least based on the trailer.
Directed by Robert Edwards, the indie drama follows Walken's aging musician character as he navigates a rocky relationship with his daughter Jude (Amber Heard), a gifted musician who can't quite seem to get her life in gear. Kelli Garner stars as his other daughter, and Hamish Linklater, Oliver Platt, and Ann Magnuson also star. Check out the One More Time trailer after the jump. 
One More Time premiered at last year's Tribeca Film Festival to not a lot of fanfare, perhaps because (based on the trailer, anyway) it looks like such standard film-festival fare. But it may be worth checking out for Walken's performance alone. Walken often goes big or weird, and sometimes even veers into self-parody, so One More Time looks like a nice opportunity for him to play up his subtler side — and show off his pipes in the process as well.One More Time hits theaters and VOD April 8.
Beautiful aspiring rock star Jude (Heard) is stuck in a rut – relegated to recording commercial jingles and lost in a series of one night stands. When she is evicted from her Brooklyn apartment, she is forced to move into the Hamptons home of her wealthy – and selfish – father Paul Lombard (Walken), an over-the-hill, Sinatra-esque crooner angling for a musical comeback. As the two reunite, Jude is forced to confront her problems, including troubled relationships with her father and overachieving sister (Garner), as well as her wobbly career and faltering love life. As Jude and Paul butt heads, they unexpectedly find themselves on a journey that may redefine their lives.