Is This 'Keanu' Calendar The Best Piece Of Movie Swag Ever?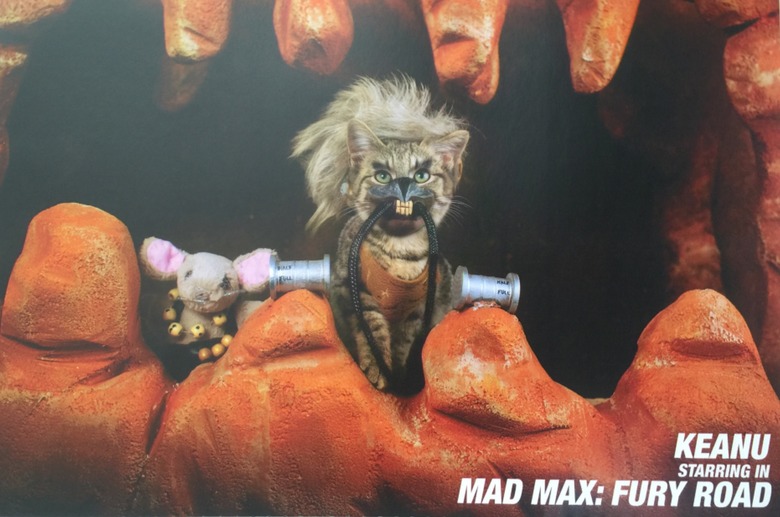 We don't typically write about movie swag on /Film, although I'll often tweet about some of the cooler things that get sent to the /Film offices to promote upcoming films and television shows. Today I received a package from Warner Bros. Pictures with swag promoting their upcoming film Keanu, a comedy film movie from Key and Peele. If you haven't yet watched the trailer for this film, go do so now.
When I opened the box I knew I had to feature it on the site. The box contained a plush of the cat at the center of the film, Keanu, complete with his do-rag and gold chain. But thats not all, Warner Bros. produced a full-size calendar featuring Keanu reenacting scenes from popular movies. That's the part I really wanted to show you as it's ridiculous, cute and awesome. Before the Oscars they released a set of movie posters spoofing this year's Academy Award nominees. This takes it further because they've gone to the lengths of elaborate photo shoots, rather than fast and dirty Photoshops. Hit the jump to take a look at some of the Keanu movie parodies featured in this Keanu calendar.
Here is a look at the Keanu plush stuffed animal that was sent:
And here is a gallery of the Keanu movie parody images that appear on every page of the Keanu calendar:
As you can see, the movies include Pee-Wee's Big Adventure, Boogie Nights, The Shining, Point Break, Beetlejuice, Se7en, Keanu, Heat, Matrix, Mad Max: Fury Road, A Nightmare on Elm Street and New Jack City.
Keanu will hit theaters on April 29th 2016 from director Peter Atencio and writers Jordan Peele & Alex Rubens. The film stars Jordan Peele, Keegan-Michael Key, Tiffany Haddish, Method Man, and Jason Mitchell, with Luis Guzman, Nia Long and Will Forte. Here is the official movie synopsis:
Action Comedy. Keegan-Michael Key and Jordan Peele, a.k.a. the hugely popular comedy duo Key & Peele, star as Clarence and Rell, two cousins who live in the city but are far from streetwise. When Rell's beloved kitten, Keanu, is catnapped, the hopelessly straight-laced pair must impersonate ruthless killers in order to infiltrate a street gang and retrieve the purloined feline. But the incredibly adorable kitten becomes so coveted that the fight over his custody creates a gang war, forcing our two unwitting heroes to take the law into their own hands.