'A Hologram For The King' Trailer: Tom Hanks Finds Himself In Saudi Arabia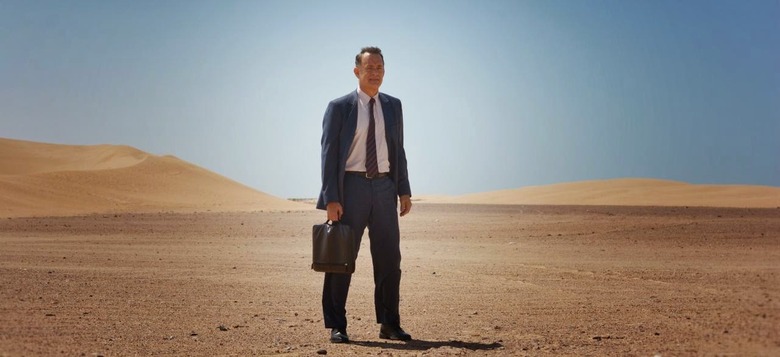 Tom Tykwer's last movie was one of the stranger things Tom Hanks has ever done. Cloud Atlas, co-directed by the Wachowskis, had Hanks playing a number of different roles spanning genres, continents, and centuries. It was an intriguing reminder that Hanks, who could easily coast on popularity and charisma at this point, is still the kind of actor who takes risks. Now the pair have teamed up again for A Hologram for the King, a more ordinary-looking adventure — though to be fair, pretty much everything looks ordinary compared to Cloud Atlas.
Based on the novel by Dave Eggers, A Hologram for the King stars Hanks as a struggling American businessman. In a desperate attempt to save himself, he jets off to Saudi Arabia to score a potentially massive deal. At first he's disoriented by his unfamiliar new surroundings, but eventually this strange new land helps him rediscover himself. Watch the first A Hologram for the King trailer below.
As the director of Run Lola Run, Heaven, Perfume, Cloud Atlas, and tons of other interesting films, not to mention several episodes of the Wachowskis' superb Sense8, Tykwer's earned the benefit of the doubt. He's a bold filmmaker who's not afraid of coloring outside the lines, so to speak, and that alone is reason enough to watch out for A Hologram for the King. All that said, the trailer itself isn't very promising. It looks like another bland entry in the "unhappy American travels to hilariously exotic foreign land to find self" dramedy subgenre, and that cheesy '90s-style voiceover is not helping matters. Fingers crossed it's just a poorly cut promo, and not an accurate representation of the film as a whole.
A Hologram for the King opens in theaters April 22. Sarita Choudhury, Alexander Black, Ben Whishaw, and Tom Skerritt also star.
Cultures collide when an American businessman (Tom Hanks) is sent to Saudi Arabia to close what he hopes will be the deal of

a lifetime. Baffled by local customs and stymied by an opaque bureaucracy, he eventually finds his footing with the help of a wise-cracking taxi driver (Alexander Black) and a beautiful Saudi doctor (Sarita Choudhury).