Daisy Ridley Confirms Talks For 'Tomb Raider' Reboot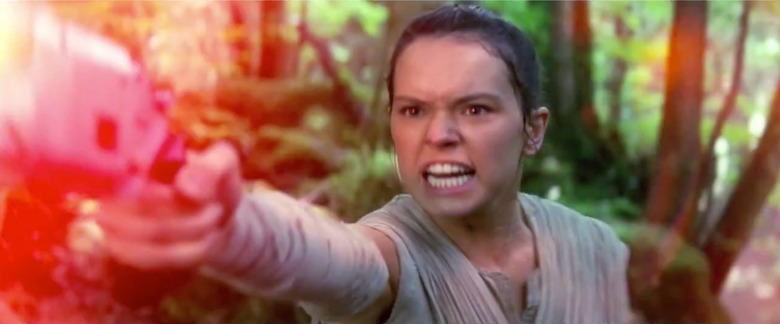 UPDATE: Daisy Ridley has confirmed she's had "conversations" about the Tomb Raider reboot. More details below.
With Star Wars: The Force Awakens, Daisy Ridley went from a total unknown to the internationally famous star of one of the biggest movie franchises of all time. Now the question is where this promising young actress will go next, and the answer could be "to another action franchise." A new report says Ridley is being eyed to lead Warner Bros. and MGM's Tomb Raider, a reboot of the video game adaptation starring Angelina Jolie. 
Deadline has the word on the Daisy Ridley Tomb Raider rumor. To be clear, this is far from a done deal — Ridley is only "one of a number of actresses being considered" for the film. It sounds like she's had meetings about the role, but there's no official offer out yet and formal negotiations have not yet begun. The project is still in the very early stages, and producers aren't ready to zero in on a star just yet.
UPDATE: Speaking to The Hollywood Reporter, Ridley confirmed that there "have been conversations" about her playing Lara Croft, but said there hadn't been a formal offer. "I'm waiting for someone to say 'I want you, let's do it,'" she said.
Based on the Tomb Raider series of video games, the film will follow British archaeologist Lara Croft on her globe-trotting adventures. If you think that sounds a bit like Indiana Jones, well, you'd be right. Director Roar Uthaug cited Indy as an influence, telling IGN, "Raiders of the Lost Ark was one of my favorite films growing up, so it's definitely a dream to work in that kind of genre." The picture will serve as an origin story for the character, not unlike the 2013 game. Geneva Robertson-Dworet is writing the screenplay.
The Tomb Raider reboot has been a long time coming. Jolie played the character in 2001's Lara Croft: Tomb Raider and returned for 2003's Lara Croft Tomb Raider: The Cradle of Life, but another sequel never materialized. Eventually GK Films picked up the rights in 2011, MGM climbed aboard in 2013, and Warner Bros. signed on in 2015. The project took a big step forward when Uthaug was set as the director last year.
Ridley's Star Wars character Rey had more than a few things in common with Harrison Ford's Han Solo, so she seems like a natural fit to follow in the footsteps of his other iconic big-screen role, Indiana Jones. And Tomb Raider will give Ridley a chance to start building a career for herself outside of Star Wars. Ridley had a voice role in the English dub of Studio Ghibli's Only Yesterday released earlier this year, and has come aboard the documentary The Eagle Huntress as an executive producer, but otherwise hasn't booked any high-profile projects post-Star Wars.