'Captain America: Civil War' Trailer: Meet The New Spider-Man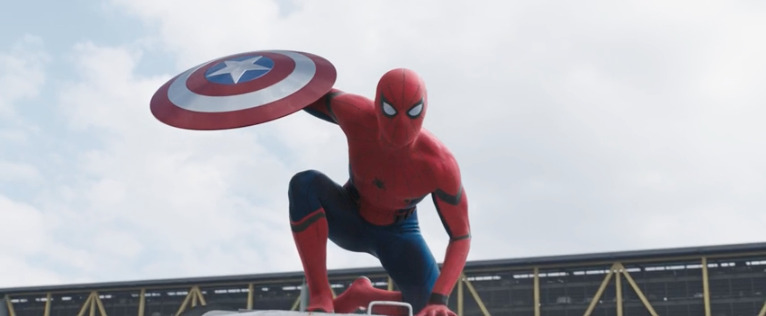 We've had a very Captain America: Civil War-heavy few days here at /Film, what with those character posters and that set visit report and all of those awesome interviews and whatnot. But this may just be the highlight of the week. Marvel Studios has just revealed the latest Captain America: Civil War trailer, teasing the epic clash between Cap (Chris Evans) and Iron Man (Robert Downey Jr.) that threatens to tear apart the entire Marvel Cinematic Universe. Check it out after the jump. 
Captain America: Civil War Trailer
The cast and crew involved with Captain America: Civil War have been very insistent that this is a Captain America movie, not an Avengers movie. Still, it's definitely got an Avengers-sized cast. Team Cap consists of Bucky (Sebastian Stan), Falcon (Anthony Mackie), Hawkeye (Jeremy Renner), Scarlet Witch (Elizabeth Olsen), and Ant-Man (Paul Rudd); Team Iron Man counts Rhodey (Don Cheadle), Black Widow (Scarlett Johansson), Black Panther (Chadwick Boseman), and Vision (Paul Bettany).
As exciting as it is to see all these characters band together in films like Age of Ultron, it could be even more interesting to watch them battle each other over genuine differences (as opposed to, say, because one of them's been brainwashed by a trickster god). Especially now that Spider-Man (Tom Holland) — arguably the most iconic superhero in Marvel's entire stable — is also involved. And although pretty much every Marvel movie promises it'll be the one to change the Marvel universe as we know it, or some such nonsense, there's reason to believe the effects of Captain America: Civil War will be felt long after the credits have rolled.
Captain America: Civil War also stars Daniel Brühl, Emily VanCamp, Frank Grillo, William Hurt, and Martin Freeman. Directed by Joe and Anthony Russo, it opens May 6.
Marvel's "Captain America: Civil War" finds Steve Rogers leading the newly formed team of Avengers in their continued efforts to safeguard humanity. But after another incident involving the Avengers results in collateral damage, political pressure mounts to install a system of accountability, headed by a governing body to oversee and direct the team. The new status quo fractures the Avengers, resulting in twocamps—one led by Steve Rogers and his desire for the Avengers to remain free to defend humanity without government interference, and the other following Tony Stark's surprising decision to support government oversight and accountability. Get ready to pick a side and join the nonstop action playing out on two fronts when Marvel's "Captain America: Civil War" opens in U.S. theaters on May 6, 2016.