Sacha Baron Cohen Still Working On 'The Lesbian', Reveals It's A Musical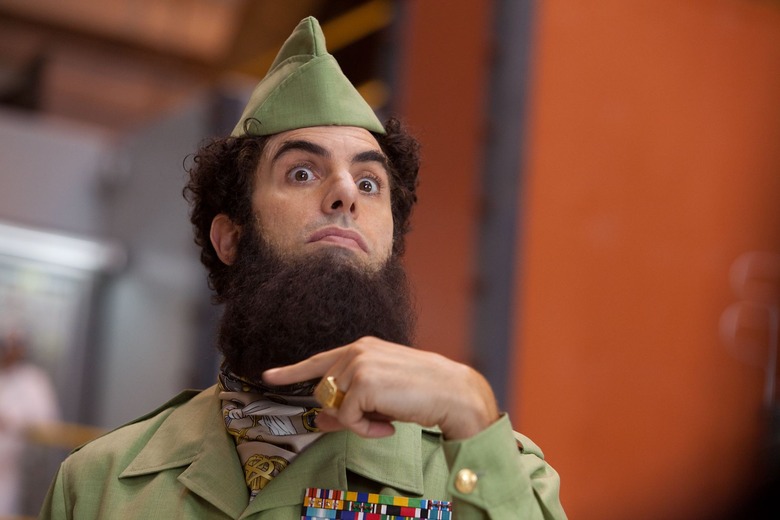 Sacha Baron Cohen takes his time picking his projects. He's got two big films coming out this year, the spy comedy The Brothers Grimsby and the Disney fantasy sequel Alice Through the Looking Glass, and they're his first onscreen roles since 2012's Les Misérables. Beyond that, his future is a little bit murkier. So what's next for the committed comedian who gave us Borat, Ali G, and Brüno? Will he lay low for another several years, or does he have another movie lined up?
As it turns out, Baron Cohen's plan is to get back to work on an old project of his that's never quite gotten off the ground: The Lesbian, which we first heard about in 2012. And now he's served up the intriguing detail that The Lesbian is actually a musical. Read his comments below. 
JoBlo's Eric Walkuski caught up with Baron Cohen at a recent press event for The Brothers Grimsby. Here's what the writer/actor had to say about The Lesbian:
I'm developing a musical called The Lesbian at the moment, which is based on the true story of a billionaire whose daughter tells him she's getting married to a woman and he offers $65 million to any man who can turn her straight. It's a true story, but we're doing the twist on it.
The true story Baron Cohen is referring to is Gigi Chao's. In 2012, the Hong Kong businesswoman made international headlines when her father, billionaire tycoon Cecil Chao, publicly offered $65 million to any man who could successfully woo his daugher away from her (female) partner, with whom she'd eloped in France. Would-be suitors came pouring in, but Cecil Chao ultimately rescinded the offer in 2014 after his daughter published a heartfelt open letter asking him to accept her homosexuality.
As of 2012, Baron Cohen was confirmed to produce The Lesbian, and looked likely to star as well. There's no word yet on who's writing the script, who might direct, or when we might see it in theaters.
The facts of Chao's story already sound tailor-made for a Hollywood adaptation, and a musical sounds like a fun, unusual way to bring this stranger-than-fiction saga to life. Plus, Baron Cohen's already shown an affinity for the format. Besides Les Misérables, he also co-starred in Sweeney Todd: The Demon Barber of Fleet Street.