Chewbacca Will Appear In The 'Han Solo Spin-Off'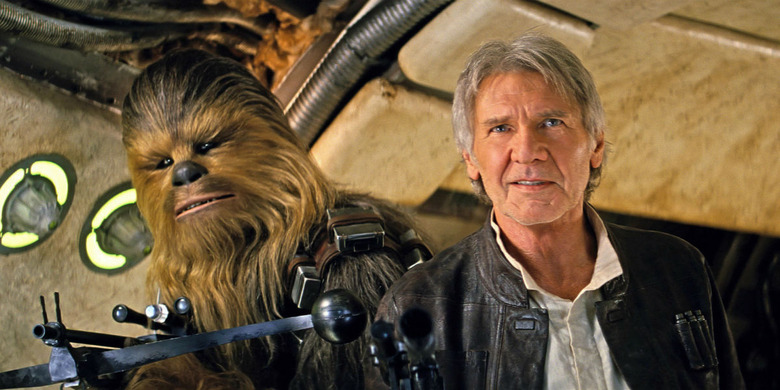 Do we need to know how Han Solo was raised as a kid? Not really, but from what we've heard so far about the untitled Han Solo spin-off, that's not the type of origin story director Phil Lord & Chris Miller are cooking up for audiences. Of course some familiar faces are bound to appear in the film, including Han Solo's loyal pal and co-pilot, Chewbacca.
This isn't a huge surprise, but it's been confirmed the lovable Wookiee is a part of the film.
While speaking with the Bank 2016 Media, Internet & Telecom Conference on Tuesday (via The Wrap), Disney CEO Robert Iger discussed Rogue One: A Star Wars Story and the Han Solo spin-off. Not much was revealed about either project, shockingly, but Iger did say Lord & Miller's Star Wars Story features Chewie:
Rogue One ... is about a band of rebels plotting to steal the plans to the Death Star. It takes place right before George Lucas's first film, which came out in 1977 and is now called 'The New Hope.'
We have others in the works, including one, which is an origin story about Han Solo and Chewie. And that'll come after 'Star Wars 8' in 2018. And then there will possibly more thereafter.
Obviously, this is still Han Solo's story; there's a reason it's not currently titled Chewbacca Han Solo Spinoff. A Han Solo spin-off without Chewie, though? That probably wouldn't please fans. Peter Mayhew could easily return to his role, too, perhaps with some help from a younger actor like in Star Wars: The Force Awakens. Wookiees live for hundreds of years and hardly age, so unlike Harrison Ford, Mayhew could remain in his role.
The Star Wars franchise has already learned that going back to the past can be tricky. Prequels and origin stories can either check boxes or reveal something essential about a character's past. Thankfully, both Lord & Miller are smart enough storytellers not to follow a tired origin story formula.
Around the release of Star Wars: The Force Awakens, screenwriter Lawrence Kasdan commented on the advantages of showing Han in his younger years:
I think it won't be the thing you're worried about. It will not be like here is where he was born and this is how he was raised. I think what it will be is what was he like ten years earlier, ya know maybe a little earlier you'll get a glimpse but... what formed the person we meet in the cantina? It is not so much about his specific history. It is about what makes a person like that? He's not full formed in the cantina! Kurosawa once said 'the heroes are the ones that are still changing and the villains are locked and petrified into what they are' and Harrison embodies in Force Awakens someone that's still not settled on who he is.
As for Chewbacca's return, the 21 Jump Street directors will probably work wonders with Han and Chewie's banter. A younger (and maybe even more aggressive) Chewbacca teaming up with a young Han is certainly an idea full of comedic potential. The tone of Star Wars: The Force Awakens was often more jokey than the past Star Wars films, so Lord & Miller have plenty of room to play with these characters.
Untitled Han Solo Star Wars Anthology Film opens in theaters May 25th, 2018.