Nicolas Cage Will Direct Nicolas Cage In 'Vengeance: A Love Story"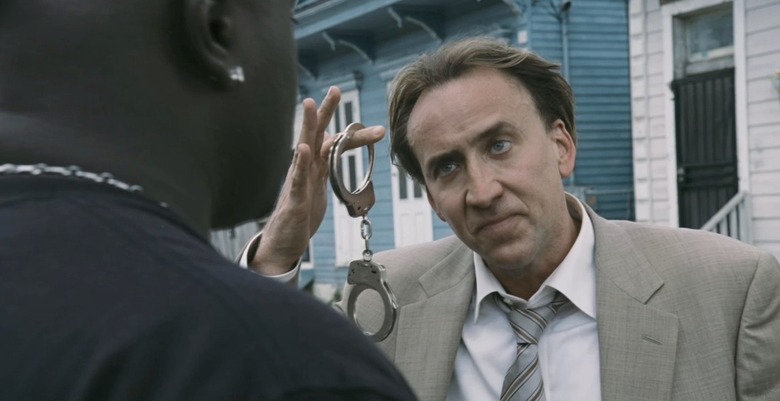 Nicolas Cage hasn't directed a feature film in almost 14 years. Cage's directorial debut, Sonny, which stars James Franco and features a score from Clint Mansell (Moon), made slightly over $17,000 at the box office. It was a small film, so it wasn't a disaster, but it wasn't exactly a hit with audiences or critics.
After spending a while away from the director's chair, Nicolas Cage is directing Vengeance: A Love Story, which he'll also star in.
Learn more about the project below.
Cage joined the project as an actor over a month ago, but Variety has now confirmed he will also direct the adaptation of Joyce Carol Oates' 2003 novel "Rape: A Love Story." The film, which is instead called Vengeance: A Love Story, will feature Cage as a Niagara Falls detective investigating a terrible crime.
Here's the synopsis for "Rape: A Love Story":
Teena Maguire should not have tried to shortcut her way home that Fourth of July. Not after midnight, not through Rocky Point Park. Not the way she was dressed in a tank top, denim cutoffs, and high-heeled sandals. Not with her twelve-year-old daughter Bethie. Not with packs of local guys running loose on hormones, rage, and alcohol. A victim of gang rape, left for dead in the park boathouse, the once vivacious Teena can now only regret that she has survived. At a relentlessly compelling pace punctuated by lonely cries in the night and the whisper of terror in the afternoon, Joyce Carol Oates unfolds the story of Teena and Bethie, their assailants, and their unexpected, silent champion, a man who knows the meaning of justice. And love.
I haven't seen Cage's directorial debut, but this is the sort of material that calls for a delicate and thoughtful approach. While reading the above synopsis, it's easy to imagine the bad version of this movie, the one that has Nicolas Cage simply going on a one-man rampage. From what I've read about the book, that would be a significant and disappointing departure from the source material.
In a statement, Cage briefly discussed his passion for the project:
I'm excited to work on 'Vengeance: A Love Story' and bring Joyce Carol Oates' bittersweet novel to the screen. Storytelling has always been my passion and I'm honored to work with this talented team to tell a tale of the suffering too many women have endured.
John Mankiewicz (House of Cards) wrote the independent thriller. Executive producer, Harold Becker (Malice), was initially attached to direct Vengeance: A Love Story, but now it's in Cage's hands. Principal photography on Vengeance: A Love Story begins next month in Atlanta.