'Keanu' SXSW Work-In-Progress Screening Announced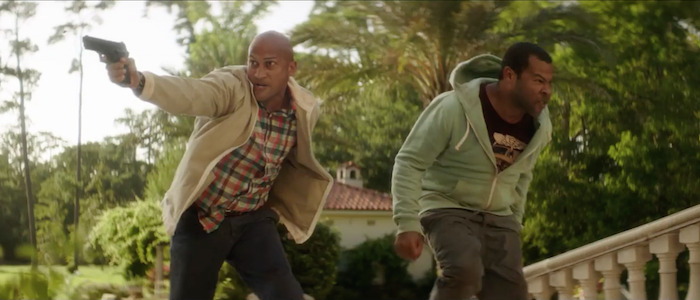 South by Southwest is only days away now. Sadly, I won't be attending the very fun Austin-based festival this year, but our own Jacob Hall will be in attendance to cover the wide array of films premiering there this year, including some high-profile films. Last week an unfinished cut of Sausage Party was added to this year's lineup, but another addition just has been made to the SXSW schedule: Keanu will play at the festival.
Learn more about the Keanu screening below.
Director Peter Atencio's comedy stars the Key & Peele duo, Keegan-Michael Key and Jordan Peele. Atencio directed 54 episodes of the hit sketch series. This is Atencio's second feature behind the camera; he directed 2010's The Rig. Based on the delightful red band trailer, it's safe to assume Keanu is more in the vein of Key & Peele than Rig.
Peele co-wrote Keanu with Alex Rubens, a credited writer on 54 episodes of Key & Peele. Following a breakup, Peele plays a man whose life finds new meaning when he takes in an adorable kitty, Keanu. When a gang kidnaps Keanu, Peele's character and his best friend (Keegan-Michael Key) will go as far as they have to get the kitten back.
SXSW announced today that a work-in-progress cut of Keanu will screen at the festival. Here's the official announcement:
We're excited to bring you another surprise announcement – the SXSW Film Festival will present a special work-in-progress early preview screening of New Line Cinema's Keanu, a hilarious action comedy debut feature from the visionary minds of Keegan-Michael Key and Jordan Peele.
A mysterious catnapping triggers a chain of events that lead cousins Clarence and Rell into the belly of LA's criminal underworld. Suburbanites at heart, the hapless pair are ill-equipped to deal with the threats and illegal activities that lie ahead, but they have no choice but to dive in and rescue Rell's beloved kitten, Keanu.
Keanu (Work-In-Progress) will screen at the iconic Paramount Theatre at 12:30 AM on Sunday, March 13. To get the best seats in the house, we recommend getting in line before midnight on Saturday night.
Film, Gold, and Platinum badges have priority entry to all SXSW Film screenings – secure your spot in line by registering to attend today.
Unfinished studio comedies have been warmly received at South by Southwest before. Bridesmaids and Neighbors played great with audiences, and both films went on to do remarkably well at the box office. The ecstatic crowd responses certainly didn't hurt the buzz in either of those cases.
If you're in Austin and happen to miss the Keanu screening next weekend, no need to worry, as the film opens in theaters April 29th.