'Me Him Her' Trailer: Things Get Weird In Max Landis' Feature Directing Debut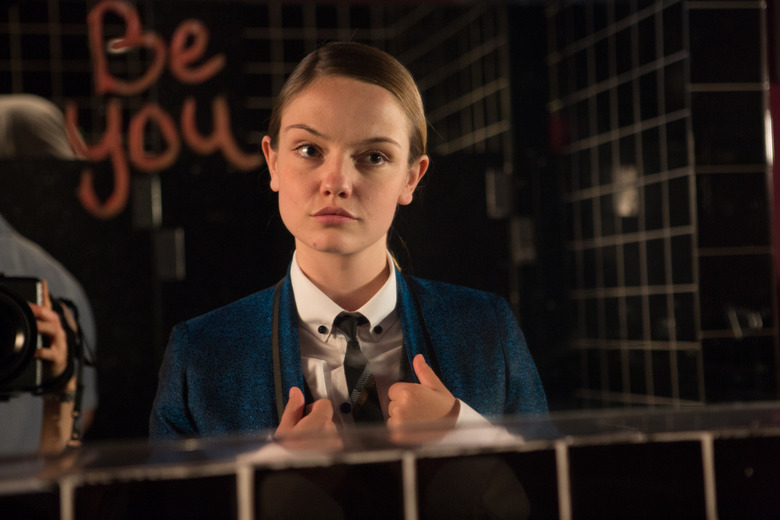 You're probably already familiar with the work of Max Landis, the writer behind such films as Chronicle, American Ultra, and Victor Frankenstein. But now, prepare to meet Max Landis, the director. Landis makes his feature directing debut with Me Him Her, an indie comedy about a guy (Dustin Milligan) who arrives in L.A. to help out a closeted TV star buddy (Luke Bracey). The men get tangled up with a lesbian (Emily Meade), who's reeling from a recent breakup.
The very first Me Him Her trailer debuted a few months ago, but Landis apparently wasn't pleased with how "generic" it felt. So Landis has overseen a new cut of the Me Him Her trailer that really lets its freak flag fly. Check it out after the jump. 
Me Him Her feels like a slight change of pace from Landis' screenwriting work, which usually delves into sci-fi or fantasy elements. But that's exactly why he was interested in telling this story, Landis told Entertainment Weekly:
I'd never really directed anything before and the majority of things I write are larger-scale science fiction things. Even my smallest movie, Chronicle, had people flinging buses at each other with telekinesis in the script. I wanted to learn [how to direct] and, when I wrote the script, this seemed like the perfect movie to learn on.
Landis continued:
Most of the things in the movie really happened to me. There are large elements of the movie that are based on a true story, which is the only thing I've ever written like that. I almost never write about myself in scripts. Me Him Her is sort of the lone exception to that rule.
That said, there's plenty about this trailer that looks weird and wild. The shot of the couple in bed floating in outer space, for example. And that off-kilter energy is exactly what Landis hoped to capture in his new version of the trailer. "The film is an odd duck and the trailer that had been made was very typical and generic in a way that didn't represent the tone of the movie," he said. "I feel that this one really does."
Me Him Her gets a limited rollout and a VOD release on March 11. Haley Joel Osment, Geena Davis, and Scott Bakula also star.