Spider-Man Spinoff 'Venom' Comes Back To Life - But It's Not A Spider-Man Spinoff Anymore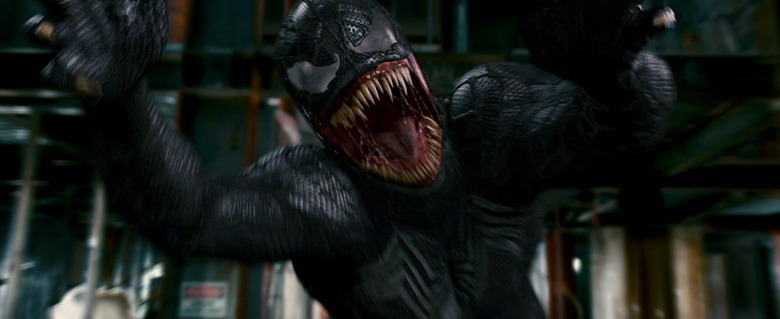 Sony's attempts to make a Venom spinoff date back years – before the Marc Webb / Andrew Garfield Spider-Man era, all the way back to the tail end of the Sam Raimi / Tobey Maguire era. So far, they haven't had much success. And the latest incarnation of the project seemed to be in jeopardy when the studio decided not to move forward with its Amazing Spider-Man franchise, instead rebooting the character as part of the Marvel Cinematic Universe.
But like any good comic book character, Venom isn't one for staying dead. The Spider-Man spinoff has reportedly come back to life at Sony. Only now, it's no longer a Spider-Man spinoff. 
THR reports Sony has hired Dante Harper to write the script for Venom, which, naturally, is being envisioned as a potential franchise-starter. What's more surprising is that the studio sees this film as a standalone completely "apart from and unrelated to" the upcoming Spider-Man movie starring Tom Holland. Venom isn't joining Spidey in the MCU, in other words; he's going to try to forge his own path on the big screen. Avi Arad and Matt Tolmach will produce.
At a time when studios are falling all over themselves trying to construct intricate "shared universes" for their blockbuster properties, the choice to launch Venom on his own is a bit surprising. But it may be more ideal than waiting years to see if Holland's Spider-Man will take off, and then coordinating with the Marvel Cinematic Universe to figure out how to fit in Venom. Besides, there's always the possibility Sony will conceive of Venom as a separate series, but leave the door open for potential crossovers down the line.
Venom made his first big-screen appearance in 2007's Spider-Man 3, where he was played by Topher Grace. The Venom spinoff has been in on-again, off-again development practically ever since. Paul Wernick and Rhett Reese (of the recent superhero hit Deadpool) have taken a crack at the script, as has Alex Kurtzman and Roberto Orci (The Amazing Spider-Man 2). Gary Ross and Josh Trank were attached to direct at various points.
Harper's screenwriting resume includes the upcoming American remake of Sleepless Night, Tommy Wirkola's Hansel and Gretel: Witch Hunters, and rewrite work on Edge of Tomorrow. He's also worked on an adaptation of Isaac Asimov's Foundation that has yet to take off.
No start date or release date has been announced yet for Venom, but we expect it'll land sometime after the new Spider-Man opens in summer 2017.