'The Adderall Diaries' Trailer: You Don't Have To Bury The Past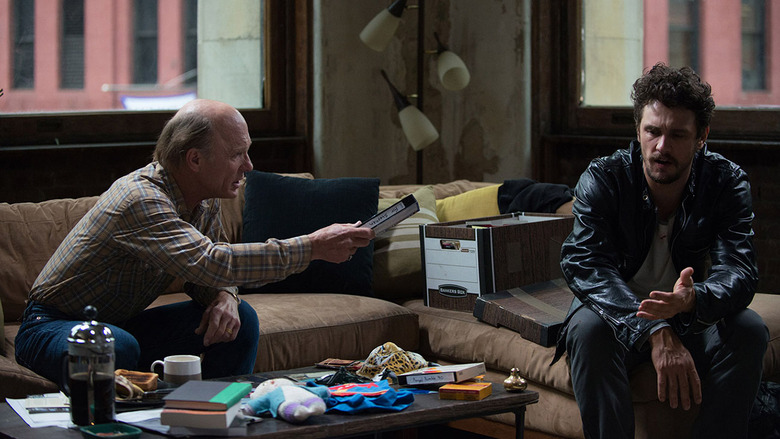 Over five years ago actor, writer, and director James Franco optioned the rights to Stephen Elliott's memoir The Adderall Diaries. In addition to starring in the film, it was presumed Franco would write and produce the feature as well, but The Adderall Diaries is written and directed by Pamela Romanowsky.
Watch The Adderall Diaries trailer below.
The drama/thriller is Romanowsky's feature directorial debut, which premiered at the Tribeca Film Festival last year. The reviews were mixed, but most critics praised the performances. The Adderall Diaries stars Franco, Amber Heard (The Danish Girl), Christian Slater (Mr. Robot), Ed Harris (Appaloosa), and Cynthia Nixon (James White).
Here's The Adderall Diaries trailer (thanks to JoBlo):
The family and crime story do not gel together very well in this U.K. trailer. The trailer goes from being a story about a writer to a crime thriller to a father-son story. Maybe it'll all fit in the movie, but this feels a bit overstuffed, as foreign trailers tend to be. All of the actors, especially Franco and Harris, look like they're doing fine work, though, and those two going head-to-head for a few scenes could make for some exciting drama.
Here's the official synopsis:
Based on the bestselling memoir by Stephen Elliott, The Adderall Diaries is the gripping and complex story of how an author's fascination with a high-profile murder case leads him to come to terms with his troubled past while embarking on a potentially life-changing romance in the present.
James Franco plays Stephen Elliot, a once-successful novelist paralyzed by writer's block and an escalating Adderall dependency, who becomes obsessed with a high-profile murder case as a way to escape his personal troubles. His interest leads him to meet Lana Edmond (Amber Heard), a smart, sexy reporter who gives him unique access to the case. As their relationship takes off, Stephen is suddenly thrust back into the past when his father (Ed Harris), a cruel and vindictive man, shows up to challenge the veracity of the memoir Stephen is writing. As Stephen simultaneously delves into the details of the murder case (which turns out to have some unexpected parallels to his own troubled upbringing) and reunites with his estranged father, he is forced to separate truth from lies and fact from fiction–ultimately leading him to finally reconcile his past and confront his future.
The Adderall Diaries will be released in the U.S. this year by A24.