'House Of Cards' Season 4 Buzz: Frank Underwood Is Back In Fine (And Machiavellian) Form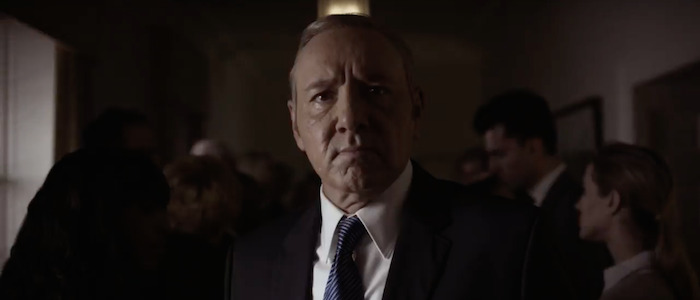 The results are in. House of Cards season 4 hit Netflix at exactly 12:01 AM Pacific time this morning, and the critics have now weighed in with their thoughts on the latest batch of episodes. Overall, the consensus is that House of Cards has re-embraced its soap opera roots, and is all the better for it. Robin Wright is getting particular praise for her turn as Claire, who finds herself at odds with husband Frank, and some of the new additions to the cast (including Ellen Burstyn and Cicely Tyson) have drawn positive notice as well.
On the flip side, it sounds like House of Cards hasn't suddenly gotten more real-world political just because 2016 is an election year. Those hoping showrunner Beau Willimon will use his final season with the series to comment on the craziness of the current race for the White House will probably be disappointed, although those who just want to escape into drama and scandal and intrigue may find plenty to enjoy. Read a round-up of House of Cards season 4 reviews below. 
The first rule of politics, at least as practiced by a certain kind of savvy campaigner: Give the people what they want. House of Cards, which returns like a hyena to the bloody carcass of Jed Bartlet's America on Friday, was always a campy thriller running on a platform of highbrow seriousness. It polled best when it dispelled with the pretense that we dug it for its moral complexity, or even for the Shakespearian grandeur of its story arcs: Beltway aspirants launched to godlike heights and then dashed on the floor. Now, at the dawn of its fourth bid for office, House of Cards leans into the soapy twists with a fresh confidence gleaned, maybe, from the stranger-than-fiction success of Donald Trump. Extreme venality in our leaders doesn't disturb us—it shocks and delights us. Terrific!
Jeff Jensen at Entertainment Weekly:
As topical or political narrative, season 4 of House of Cards lacks the resonance or imagination of American Crime or The People v. O.J. Simpson, arguably the two best dramas on TV right now. The show is more elliptical in its strategies for relevancy than on-the-nose soapbox pop like The Good Wife and Scandal. But House of Cards exist in its own pocket universe and aims for thematic timelessness, not timeliness. You can understand why. Given that it's a binge-at-your-convenience show on a streaming service, the drama must work whenever and wherever we find it or take it. It has to transcend our circumstances, or at least, survive them.
Truth be told, I'm kind of enjoying this hyperactive, faux-edgy House of Cards. It doesn't really have anything to say about life or the human condition, but it's definitely having a good time throwing things at the wall. I kind of can't wait to see what happens next.
House of Cards returns for a fourth season on March 4, and it is more or less the same show it has always been. If you enjoyed the first three seasons, with all their twists and turns and underhanded Underwoodery, you will probably enjoy the fourth, at least through the six episodes that Netflix released to critics. If the first three seasons made you tear your hair out a bit, well, the fourth will probably do that, too. Sometimes House of Cards plays out like a more serious version of Scandal, and sometimes it plays out like a version of The West Wing where everyone has been replaced with their evil doppelganger, but at this point it's mostly just its own animal. House of Cards is House of Cards. For better and worse.
On Frank's side, the politics subplots have been pared down to only the most goal-oriented (the primary fight against Heather Dunbar) and antagonistic (continuing tensions with Russia). The cumulative effect is a hasty retreat from last season's experimentation and a doubling down on the intrigue, and shallow cynicism, that made House of Cards so addictive in the first place. It's possible that peeling back the impeccably tailored tarp over the gaping maw at the heart of this show, however briefly, did some permanent damage. In his last season as showrunner, though, Beau Willimon does his best to help us forget that the political show he created actually isn't very good at telling stories about politics.
What it is good at is being a slow-burn soap opera. And by reorienting itself to become the Frank-vs.-Claire show, House of Cards has embraced just that. Crisp cinematography and businesslike dialogue aside, this show has never been realistic. [...] It's finally stopped pretending to be, too.
Season 4 also mirrors the current presidential elections surprisingly well, in such a way that exiting showrunner Beau Willimon is probably grinning from ear-to-ear watching the current cycle play out. We can't give specifics, but it particularly parallels the racial issues that plague this country. [...]
The show also makes a leap this year into more surreal territory, going for experimental moments that straddle the line between obvious symbolism and brilliant creativity. Remember this terrifying nightmare scene from Mad Men? You'll get a taste of that dark, surrealist vibe over and over.
Is the current presidential election getting you down? Is the prospect of an amoral, conniving opportunist who uses the worst of humanity to his advantage becoming a presidential nominee — or even president himself– just too much for you? Well, Netflix has good news for you with the fourth season of "House of Cards," which debuted Friday just past midnight. President Frank Underwood (Kevin Spacey) is running for re-election, and somehow that seems so much more appealing than the current options. Maybe it's because he's fictional.
Lisa Weidenfeld at The AV Club:
That said, there are some real risks taken this season, both stylistically, and in terms of plot. Did showrunner Beau Willimon decide to go out with a bang? Without getting into too much detail, a big event a few episodes in completely shifts the show on its axis in unprecedented fashion. Whether it ends up giving the series somewhere new to go isn't clear in the six episodes screened for critics, but it's nice to see House Of Cards showing some of the ambition Frank so admires.
Daniel Fienberg at The Hollywood Reporter:
Spacey's performance, which at least had an appealingly theatrical extravagance when the series began, has grown less enjoyable. Having reached a pinnacle, there's no way to root for Frank's striving anymore, if you ever were, but House of Cards has yet to commit to urging us to root for Frank's downfall.
Thankfully, the fourth season of House of Cards doesn't waste any time getting back to business. Its first six episodes find both the show and its main character back to wickedly pirouet through the political landscape. Last year's limp wonkery and diplomatic crises have given way to rapid-fire storylines reminiscent of Homeland's adrenalized early seasons. The Dishonorable President Underwood is still backed into a corner on multiple fronts, but he seems rejuvenated and ready to fight his way out thanks to a nemesis that brings out the best of the worst in him: his own wife.