Green Lantern Won't Show Up Until 'Justice League: Part Two' Or Later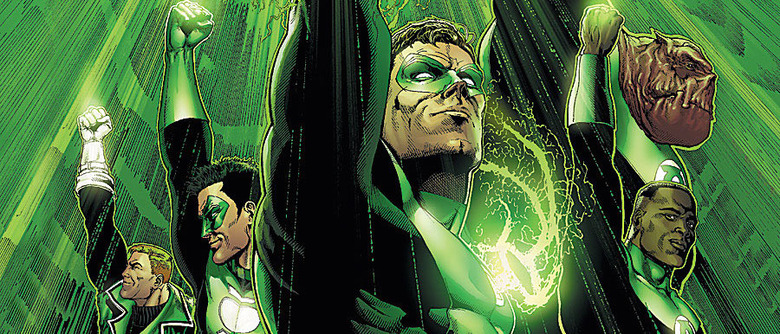 Warner Bros. has already assembled most of its Justice League. We've got Henry Cavill as Superman, Ben Affleck as Batman, Gal Gadot as Wonder Woman, Ezra Miller as the Flash, Jason Momoa as Aquaman, and Ray Fisher as Cyborg. But the seventh member of the team has remained a big fat question mark. At this point, despite the fact that Green Lantern Corps already has a 2020 release date locked in, we don't even know which Green Lantern(s) will eventually suit up, much less who'll play him (or them).
And it may that stay for a while. Although many had hoped we'd get our first look at a Green Lantern in 2017's Justice League: Part One or even this spring's Batman v Superman: Dawn of Justice, Warner Bros. says we won't meet him until 2019's Justice League: Part Two — or possibly even later. 
Speaking to Entertainment Weekly, Batman v Superman producer Charles Roven indicated that Green Lantern would probably make his debut in Justice League: Part Two. Assuming plans don't change, that is. "Every beat of the movie is not yet worked out. So there's the possibility that he may or may not be in Justice League 2," he said. "For now, we felt that we were introducing enough characters that the best possible place we could put Green Lantern is some introduction in Justice League 2, or barring that, a movie after."
If Green Lantern doesn't make it into Justice League: Part Two, fans can still look forward to meeting him (or them, rather) in Green Lantern Corps, currently scheduled for June 19, 2020. But details on that film are still murky. No writer or director has been announced, no casting has been set, and as of now Warner Bros. isn't even saying which versions of the character – Hal Jordan? John Stewart? Guy Gardner? — we'll get to see.
That long lead time should give Warner Bros. plenty of distance from the 2011 Green Lantern movie, which was panned by critics and fans. There's a risk in rebooting too quickly; The Amazing Spider-Man came just five years after Spider-Man 3 and struggled to set itself apart from the earlier iteration of the franchise. Then again, that film was trying to follow up a smash-hit franchise. Green Lantern made only $219 million worldwide, so it's quite possible no one even remembers it existed.
In any case, Warner Bros. knows they goofed up the first time, as studio exec Greg Silverman acknowledged. "[Green Lantern] is an incredible character. He's actually multiple incredible characters," he said. "There's real opportunity there. We didn't do a great job on that first Green Lantern movie. This is a character who deserves to be treated in the same way that Batman and Superman and Wonder Woman are being treated now, which is with great reverence. I guess I can say to the Green Lantern fans: if they can be patient with us, I think they'll be really happy."