'Star Wars: Rogue One' Briefly Previewed At Disney Shareholders Meeting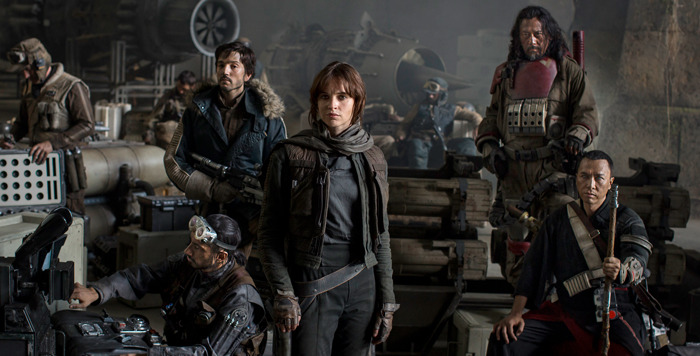 The Walt Disney Company had their annual shareholder meeting this morning in Chicago. A lot of it had to do with boring financials, which is beyond the coverage of this site. But Disney Chief Executive Bob Iger did show off a bunch of clips from upcoming Disney films including Star Wars: Rogue One, Captain America: Civil War, Doctor Strange, the live-action Beauty and the Beast and the next Pirates of the Caribbean film. A /Film reader in attendance has sent me a rundown of what he saw, read about it after the jump.
Before we get to the report, here is what Bob Iger said about Star Wars: Rogue One at the meeting:
It's our first original standalone Star Wars story. It's about a band of rebels who are plotting to steal the plans for the Death Star. The action takes place right before the events in the very first Star Wars movie, Episode IV, which was called A New Hope. And I can't wait for you to see it, it's in theaters this December.
I think this is the first time anyone has officially said that it takes place "right before" A New Hope. Not that that's a surprise, as we knew it would take place somewhere between Revenge of the Sith and A New Hope. Director Gareth Edwards would only say it is set between the two films, but takes place "a little more towards [Episode IV]" when he spoke at Star Wars Celebration 2015.
/Film reader Matthew Hansen was in attendance at the Disney shareholders meeting and sent in the following report on the Rogue One footage and images that were shown during the meeting. The brief footage came packaged in a sizzle reel at the beginning of the presentation:
Most of it was very quick. A shot of the black stormtrooper, possibly called Death Troopers as previously reported, another pic of that same style of helmet and armor but all chrome, reminiscent of Captain Phasma from The Force Awakens, an image showed two AT-ATs that had a slightly different look with the door panel on the side of the body painted a lighter beige color. And a couple cast photos were shown, one of Felicity & Diego Luna and another of Donnie Yen. The clip featured Felicity's character on what looked like the inside of a ship or shuttle with her arm up holding on and the hatch/ramp open behind her. I wish I could remember what she said as part of the sizzle but it went by too fast. The new stormtroopers looked great. ...
It all looked great, had a classic Star Wars/A New Hope look & feel. Bob Iger said that they didn't have footage but that it & Episode VIII had been filming as previously stated. I'm definitely more excited for the film since it will be set close to the classic trilogy time & like I said it definitely had a similar look/feel.
The reel also had footage from Disney's live-action version of Beauty and the Beast which showed Emma Watson as Belle in the iconic classic yellow dress running down the stairs. Hansen says "she looked gorgeous and perfect as Belle."
For Captain America: Civil War, which will be in theaters this May, they showed a full unfinished scene with Captain America and Winter Soldier being pursued by Black Panther. It began with a "great shot" of Winter Soldier stealing a motorcycle by throwing off a driver as he spun the cycle around. Captain America's car is hit and he hops out and runs as it rolled behind him. All three are stopped by War Machine. The scene finishes with Black Panther pulling off his mask as he is apprehended. They refer to him as "Your Highness." War Machine looks to Steve Rogers and says "Congratulations Cap, you're a criminal!"
They showed a fast-cut sizzle reel from Doctor Strange, which had no dialogue, just a few brief shots. Also in the sizzle was a brief glimpse of Johnny Depp reprising his role as Captain Jack Sparrow in a new Pirates of the Caribbean film. They also showed a clip of Zootopia, out in the U.S. this week.
Bob Iger also announced that construction will begin in April on Star Wars Land in Disneyland, but gave no estimated completion date.