No, 'Harry Potter And The Cursed Child' Will Not Be A Movie (Well, Not Yet)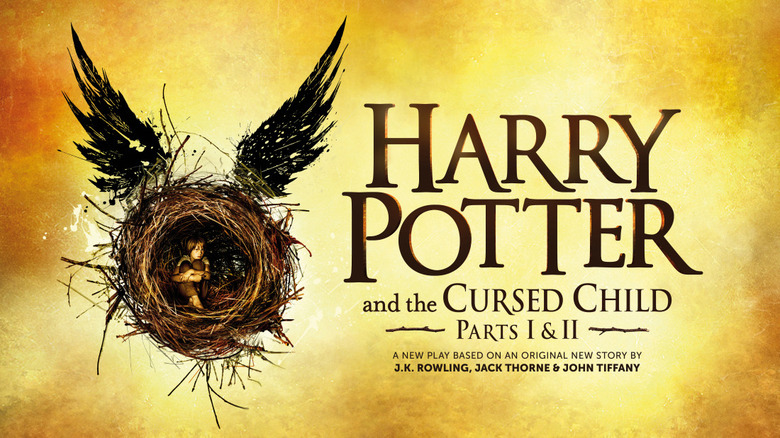 Nearly a decade after Harry and Voldemort's final showdown in the seventh and final book of J.K. Rowling's series, fans rejoiced to hear an eighth Harry Potter story was on the way – in the form of Harry Potter and the Cursed Child, a play set to premiere on London's West End this summer. Of course, getting tickets to that show is easier said than done, so some devotees have started speculating about the possibility of a movie. Warner Bros. is already spinning off the Harry Potter film franchise with Fantastic Beasts and Where to Find Them, after all. Might a Cursed Child film follow?
Unfortunately, Potterheads, the answer is no. According to Rowling, there are no plans to make Cursed Child into a movie — though if you just can't get enough of big-screen wizardry, you can look forward to a whole trilogy of Fantastic Beasts movies. 
Rowling addressed a fan who said they'd heard Cursed Child would be a movie as well as a play.
You heard wrong, I'm afraid. #CursedChild is a play. #FantasticBeasts will be 3 movies, though! https://t.co/7tvw4rolcR

— J.K. Rowling (@jk_rowling) February 29, 2016
It certainly doesn't seem out of the realm of possibility that Harry Potter and the Cursed Child could be adapted into a film eventually. The Harry Potter movies have done monster business for Warner Bros., and another sequel would be a guaranteed moneymaker. But it's probably smart to keep Cursed Child off the screen for now. Going to the theater can be expensive, especially if you need to buy train or plane tickets to get to London first. Why cannibalize the show's earnings by announcing a cheaper option right off the bat?
Besides, for those who are dying to know the story but really can't make it to the show, the Cursed Child script will be published as a book almost concurrently with the play's official debut. For now, what we know is that the play picks up with Harry in adulthood, as he juggles his job at the Ministry of Magic with his home life raising three children. The Cursed Child in question seems to be Harry's son: "While Harry grapples with a past that refuses to stay where it belongs, his youngest son Albus must struggle with the weight of a family legacy he never wanted. As past and present fuse ominously, both father and son learn the uncomfortable truth: sometimes, darkness comes from unexpected places."
As for Rowling's mention that Fantastic Beasts and Where to Find Them will be a trilogy, that's not exactly news as Warner Bros. has already set dates for all three films. The first one arrives November 18, 2016 and the sequels are scheduled for November 16, 2018 and November 20, 2020. Eddie Redmayne stars as "magizoologist" Newt Scamander, who journeys to New York in the 1920s.