'Big Hero 6' TV Series Coming To Disney XD In 2017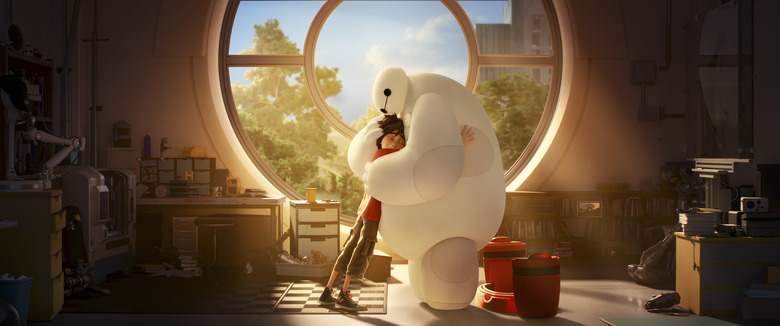 Walt Disney Animation Studios has been absolutely killing it over the past few years, but so far they've resisted the temptation to follow up any of their big smash hits with big splashy sequels. Not even Big Hero 6 — which, as an adaptation of a Marvel comic book, seems tailor-made for a multi-film franchise — has given way to a Big Hero 7. But Disney has been very open to expanding these hot properties in other directions. Like TV, where we'll soon see a Big Hero 6 series. 
Disney announced the Big Hero 6 TV series today. The show will pick up shortly after the events of the movie, following the further adventures of the Big Hero 6: 14-year-old robotics prodigy Hiro Hamada, his "personal healthcare companion" robot Baymax, comic book fanboy Fred (a.k.a. Fredzilla), control freak Wasabi, upbeat scientist Honey Lemon, and woman of few words GoGo. Now a student at the San Fransokyo Institute of Technology, Hiro faces all the usual academic and social challenges associated with being the new kid on campus, while also battling the high-tech supervillains that continue to threaten his city.
Big Hero 6 will be executive produced by Kim Possible creators Mark McCorkle and Bob Schooley along with another Kim Possible vet, Nicholas Filippi, who'll serve as supervising director. It seems just perfect that Big Hero 6 should inherit so much of the Kim Possible team. That show, which ran from 2002 to 2007, also balanced action-thriller elements with more ordinary coming-of-age themes, and featured a smart, sweet tone that should also suit a Big Hero 6 TV series. This might not be the movie sequel some fans have been hoping for, but we can rest assured the property remains in good hands.
Gary Marsh, president and chief creative officer of Disney Channels Worldwide, served up the usual press release chatter:
Our colleagues at Walt Disney Animation Studios have created a brilliant new world, inspired by Marvel, with vivid, unique characters. We are thrilled to have the opportunity to further develop these characters into a world class animated series — full of fun, action and the kind of endearing storytelling that only Mark, Bob — and Baymax — can deliver.
Production on the Big Hero 6 TV series is already underway. Look for it to hit Disney XD channels sometime in 2017. I think this calls for a celebratory fist bump, don't you?
[via Deadline]