'Wolverine 3': Will Liev Schreiber Return As Sabretooth?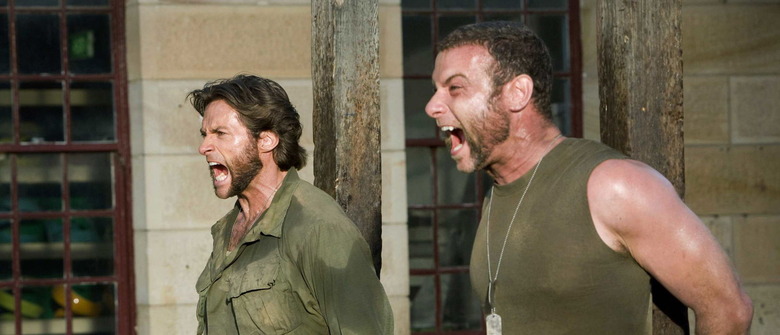 After seven films across two decades, Hugh Jackman's time as Wolverine is finally coming to a close. He's set to brandish the claws one last time in 2017's Wolverine 3, based on Mark Millar and Steve McNiven's Old Man Logan arc. And there might an old friend there to help send him off. Liev Schreiber has confirmed he's had talks about reprising his role as Sabretooth for the new movie, which is being directed by James Mangold. Patrick Stewart is also expected to return as Professor X. 
MTV News caught up with Schreiber on the Oscars red carpet this weekend, and asked him whether he might return for the next Wolverine. Watch Schreiber's response below, or skip ahead to read it.
We've talked about it. I don't know. I mean, he's mentioned it to me. Old Man Logan story, that's appealing. That's something I can do. "Old" being the operative word. Old Man Sabretooth.
Schreiber has only played Victor Creed a.k.a. Sabretooth once before, in 2009's much-reviled X-Men Origins: Wolverine. Plenty of fans would like to pretend that film never happened — and thanks to the timeline reset in X-Men: Days of Future Past, it never did as far as the characters are concerned. But Ryan Reynolds' Deadpool somehow survived to star in his own spinoff, so why not let Schreiber give Sabretooth another shot as well?
Schreiber has hinted before that he'd like to return for Wolverine 3. "I heard that the storyline is Old Man Logan, and when I heard that I thought, well, you know, there's Old Man Logan, there could be Old Man Sabretooth," he said to Jimmy Fallon last year. However, he stressed, "I don't know if I'm invited." His latest comments to MTV suggest his casting has moved beyond wishful thinking into actual discussions, though it's far from an ironclad, official confirmation.
Millar and McNiven's Old Man Logan storyline unfolds in a dystopian future ruled by supervillains. The former Wolverine has retired to a quiet life with his family, but agrees to help an old friend deliver a package. In the books, that friend is Hawkeye, but Hawkeye doesn't exist within Fox's X-Men universe (he's set up at Disney), so you can expect him and some other characters to be swapped out for mutants in the movie adaptation.
Wolverine 3 arrives March 3, 2017.