Exclusive: '10 Cloverfield Lane' IMAX Poster By Ape Meets Girl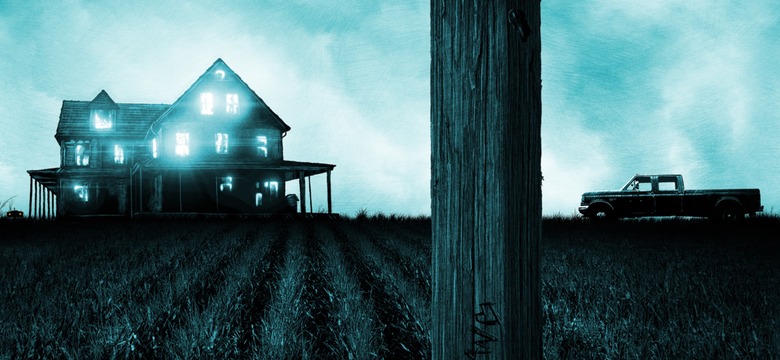 Paramount Pictures and IMAX have given us the opportunity to debut the IMAX illustrated poster for 10 Cloverfield Lane created by a UK artist Kevin M Wilson, who goes by the pseudonym Ape Meets Girl. We've featured his work many times in the past on /Film; you might remember his Jaws, Back to the Future, WALL-E, Peter Pan or Incredibles posters. His latest is for the J.J. Abrams-produced, Dan Trachtenberg-directed thriller 10 Cloverfield Lane, which hits theaters nationwide on March 11th, 2016. Hit the jump to see the Ape Meets Girl 10 Cloverfield Lane poster and read my brief chat with the artist. How many hidden Easter eggs can you spot in the art?
Ape Meets Girl 10 Cloverfield Lane Poster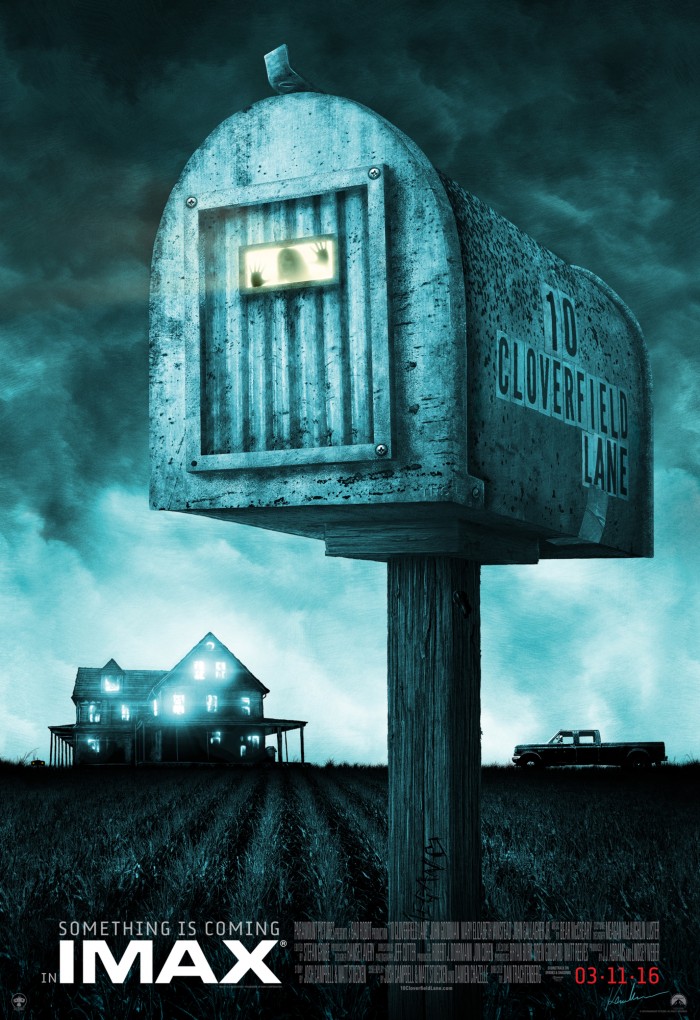 As you might know, Ape Meets Girl loves to hide little Easter eggs in his art. How many can you find in the above poster? I got a chance to briefly chat with Ape Meets Girl about the creation of this 10 Cloverfield Lane IMAX poster. He talks about how the poster came about and gives some hint to a few of the hidden Easter eggs in the print:
Peter: Were you a fan of the original Matt Reeves film Cloverfield?
Ape Meets Girl: Huge fan! I'm a sucker for a giant monster, and I thought Cloverfield nailed it. I just got back from New York yesterday and I had to scope out a few locations while I was there!
Peter: How did you get involved in creating this 10 Cloverfield Lane poster?
Ape Meets Girl: I was contacted by IMAX and then Dan. They explained they were looking for something to promote the IMAX screenings and wanted to know if I was interested. Dan told me J.J. had seen my work and loved it, so I was sold at that point (as if I needed convincing!)
Peter: Did you get to see the film before creating this concept? 
Ape Meets Girl: I did. Paramount were kind enough to setup a screening for me at their London offices. I'm so pleased they did as the film just set so many fresh ideas buzzing in my head, and the trailers only scratched the surface.
Peter: Was this your first concept for the poster?
Ape Meets Girl: I submitted a few more but this was one of two that came to mind immediately while I watched the film. I felt the arched bunker shape perfectly mirrored the mailbox, and played nicely with the almost military setting in a very domestic/rural location.
Peter: I know you love to hide Easter eggs in your art, what can you tell us about the Easter eggs in this print? Did they come out of a collaboration between you and Dan?
Ape Meets Girl: Haha. Well, there are some obvious ones, like in the grass, and anyone who is following the Alternate Reality Game will be familiar with the name that appears in the post. As for the others, there are nods to the film, subtle nods, that really just appear to be part of the mailbox and the background, but once you've seen the film, you'll realise their relevance. Some of them I added myself, but others were Dan's idea, in particular he was keen to incorporate The Totally Rad Show into the image somewhere.
Peter: What are you working on next that you can talk about?
Ape Meets Girl: I have so many exciting projects lined up, most I can't talk about! I've worked on a couple of things with Hero Complex Gallery which we'll be debuting at Wondercon this month, and I'll be flying over for that too so come and say hi. I also have some work in the Miyazaki Spirit show which opens at Sketchpad Gallery in San Francisco on Friday.
***
Thanks to Paramount, Bad Robot and IMAX for allowing us to debut this poster, and thanks to Ape Meets Girl for entertaining our questions. I love that Dan was able to work with Kevin to get an Easter egg for his former web series Totally Rad Show into the poster art.
I'm not sure if this Ape Meets Girl 10 Cloverfield Lane poster will be available at IMAX theaters on opening night/opening weekend, but that has been the case for some of the IMAX exclusive posters in the past. 10 Cloverfield Lane opens March 11.