How Kristen Bell Ended Up Voicing Two Words As A Sloth In 'Zootopia'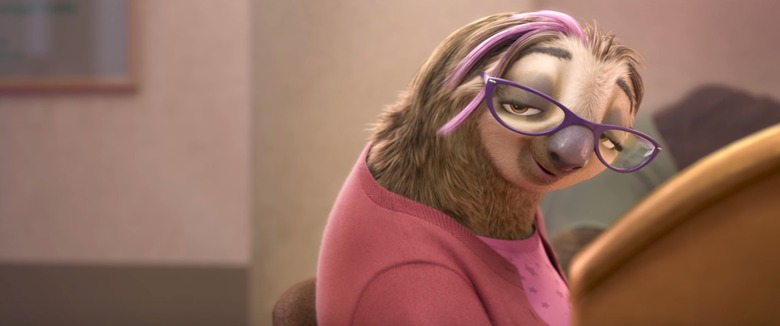 Zootopia doesn't hit theaters stateside until later this week, but you've probably seen a chunk of the film's funniest scene. The scene tested so well worldwide that Disney Animation decided to make it the focal point of some of the trailers and TV spots. Of course, I'm talking about the sequence where Judy Hopps and Nick Wilde need to visit the DMV to run a plate, i.e., the sloth scene. But what you might not know is that Frozen star Kristen Bell provides the voice of Priscilla, one of the sloths. Her entire performance can be seen in the trailer — it's all of two words. Learn how Bell got cast in this small but choice Zootopia role after the jump.
First of all, if you haven't seen the trailer with the sloth scene, here it is:
At the Zootopia junket, I talked with the film's writers Jared Bush and Phil Johnston and producer Clark Spencer about the sloth sequence during a roundtable interview. They explained how they found the voices for the sloths:
The voice was very important. Raymond Persi, who is one of our story artists at Disney did the scratch voice of the Sloth and there was something about the tone of his voice that was hilarious. Not matter what we did, we said, maybe we should bring in another actor to play the role but he was so perfect — it only worked with his delivery, that was it.
But what about Kristen Bell as Priscilla? How did they get the Frozen star to do a two-word cameo in the movie? Here is the story about behind the Kristen Bell Zootopia sloth casting:
We were sitting there thinking, we have two words. What are we going to do? We're probably going to have someone internal do it and someone said "have you seen Kristen Bell on Ellen, because not all of us had seen that before. So we all watched it and said, 'thats the funniest thing we've seen in our entire life.'
Okay, we know you've probably seen Kristen Bell's appearance on Ellen as the sloth clip went viral, garnering almost 23 million views to date. But in case you haven't seen it, here it is:
So after watching that clip in the room with Zootopia casting director Jamie Sparer Roberts, they wondered if Bell would be willing to come on for such a small role in their film:
And given she was in Frozen, we thought it'd be a really great idea. And our casting director literally sent a note, while we were in the room, and said would you consider doing two words if it was a sloth, and the answer came back within two to three minutes, yes. It was the quickest deal ever made in Hollywood. And it was great to have her do it. Also it's one of those great inside things for people who know her love of sloths.
So there you have it, thats how Kristen Bell ended up as a sloth in Zootopia.