'Batman V Superman' Serves Up Jimmy Kimmel "Deleted Scene," Plus Some Actual New Footage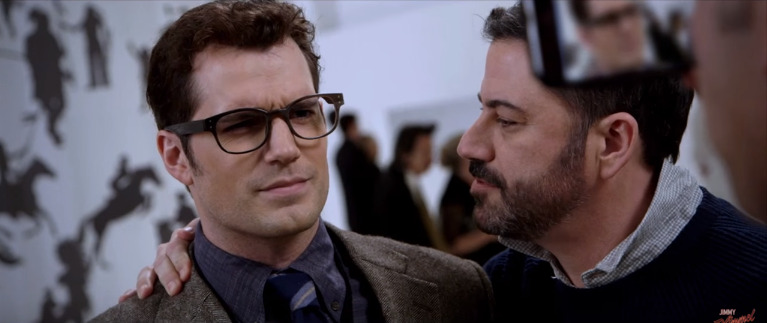 The opening of Batman v Superman: Dawn of Justice is just three and a half weeks away, which means Warner Bros.' marketing campaign is now in its home stretch. And they are not holding back. Today we've got a look at the Batman v Superman Jimmy Kimmel cameo (okay, so this one's just a funny skit for Kimmel's show), a real Batman v Superman clip, and a new Batman v Superman featurette. Gorge yourself on superpowered glory after the jump. 
First up, here's a "deleted scene" from Batman v Superman: Dawn of Justice featuring Jimmy Kimmel's cut cameo. He plays a sloppy boor who's apparently the smartest guy in all of Metropolis and Gotham put together — he's the only one who can see through Clark Kent and Bruce Wayne's flimsy disguises, when even boy genius gazillionaire Lex Luthor is easily fooled by Clark's glasses. As a bonus, Kimmel's role would've put Batman v Superman in the same shared universe as... well, you'll see.
Kimmel also debuted a new Batman v Superman clip that actually made it into the movie. In it, we finally start to get an answer to the age-old question of what would happen if Batman fought Superman. The answer: lots of dramatic glowering and some moderate property damage.
Meanwhile, with Affleck busy offering sneak peeks of Batman v Superman to his buddy Kimmel, director Zack Snyder was talking up the film and its partner, Turkish Airlines, in a new featurette. (Turkish Airlines, you may recall, are the ones who paid for those "Fly to Gotham / Metropolis" Super Bowl ads.) According to Snyder's contractually obligated spiel, Batman v Superman and Turkish Airlines go together because they both represent quality products.
Batman v Superman: Dawn of Justice arrives March 25.
Fearing the actions of a god-like Super Hero left unchecked, Gotham City's own formidable, forceful vigilante takes on Metropolis' most revered, modern-day savior, while the world wrestles with what sort of hero it really needs. And with Batman and Superman at war with one another, a new threat quickly arises, putting mankind in greater danger than it's ever known before.