'Crouching Tiger, Hidden Dragon: Sword Of Destiny' Buzz: The Sequel Is Basically What You Expected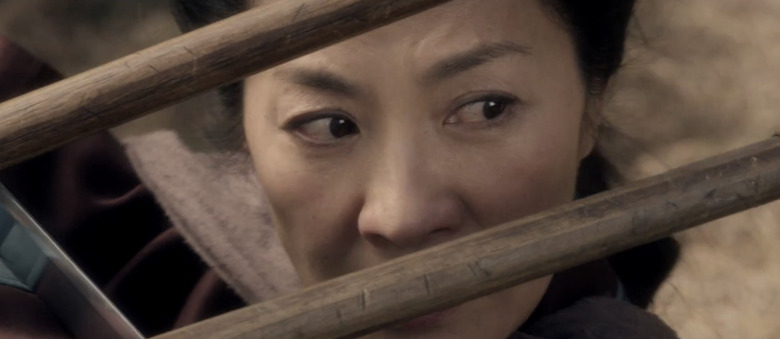 Fans of Crouching Tiger, Hidden Dragon weren't thrilled when they got their first look at its sequel, Crouching Tiger, Hidden Dragon: Sword of Destiny. Like Ang Lee's picture, the sequel is based on a five-part series, written by Wang Dulu. Despite going back to the source material, plenty of fans labeled the sequel a cheap cash grab.
The Crouching Tiger Hidden Dragon 2 reviews are in, and most critics are still calling the film a cash grab.
From the reviews I've read, it sounds like martial arts choreographer Yuen Wo-Ping's film doesn't recapture the magic of Ang Lee's original picture. That was kind of expected, despite Wo-Ping's talents, but even looking at the film as a standalone experience, critics say the film doesn't deliver. Most of the reviewers included below are either indifferent or frustrated by the sequel.
Here's what the critics are saying:
IGN:
Released more than 15 years ago, the original Crouching Tiger, Hidden Dragon won four Academy Awards and was nominated for six more (including Best Picture and Best Director). To suggest that it was popular and well-received is greatly underselling it. This belated sequel, now available on Netflix and IMAX screens, will not have the same problem.
While Sword of Destiny looks tremendous and the fight scenes are giddy fun, you can't help but get the sensation that something is missing. There isn't a moment like the one in the swaying tree tops from the original that transports you and makes you feel like you're witnessing something you've never seen before. It's the definition of solid. Although wire-work fight scenes had been done for well before Ang Lee staged and shot them, for a lot of us it was crazy and fresh and so dazzling you almost didn't believe your eyes. Sword of Destiny is still thrilling and in some instances (like a fight atop a frozen pond), more than that. But what it's missing is that wow factor that you only get to experience one time—that shock of the new.
What's clearly missing from Sword Of Destiny is the singular, coherent vision that Ang Lee brought to Wang's epic source material. Even when scenes work, they don't always feel like they belong in this movie—the introduction of Silent Wolf and the rest of his squad plays like (very deft) action-comedy in the Jackie Chan mode (Yuen started out working with Chan, in films like Drunken Master and Snake In The Eagle's Shadow), which bears no tonal resemblance to scenes in which Snow Vase and Wei Fang hash out their mutual tragic backstory. The melody is the same, but the rhythm is off. Plus, it's just plain weird that everyone is speaking English.
Above all, Crouching Tiger, Hidden Dragon: Sword of Destiny is product rather than a film — an unnecessary sequel 15 years after the fact that's attempting to cash in on a respected property in a reformed media age. If nothing else, the sheer volume of social media "partners" and managers (evidenced by the protracted end credit roll that puffs up the film's running time by well over five minutes) indicate an entirely inorganic marketing strategy at work. And screening in a spoken Cantonese (in Hong Kong, Putonghua in China) dub rather than in its original English can't help, either. Bad dubbing is distracting in any language. Sword of Destiny feels like Wong Kar-wai's Grandmaster in that it seems incomplete, like there's a longer, better film in an editing room somewhere just waiting for Blu-ray. A missed opportunity given the talent in front of and behind the camera, it begs the question of what they could have achieved if everyone aimed for originality.
The curse of Sword Of Destiny is that Crouching Tiger still hasn't been forgotten. It's difficult to bring something new and different to a well-established genre. It's harder still to operate in the shadow of a classic. Inevitably, Sword Of Destiny is overshadowed by the film it's trying too hard to copy.
Ang Lee is unmatched in depicting repressed, forbidden love against sweeping vistas (see also: "Brokeback Mountain," "Sense and Sensibility"), which gave the burning heart and soul to the original "Crouching Tiger." "Sword of Destiny" does not achieve the same effect. While there are a few beautiful establishing shots, much of the plot is confined to a compound courtyard, where the Green Destiny is being protected by the House of Te.
Crouching Tiger, Hidden Dragon: Sword of Destiny is available now on Netflix and on select IMAX screens. Considering the film is on Netflix, we'll see how many diehard Crouching Tiger, Hidden Dragon fans pay the extra price for those IMAX tickets, and based on these early reviews, maybe not too many of them will make the trip to the theater.