'Bones' Season 12 Will Be The Final Season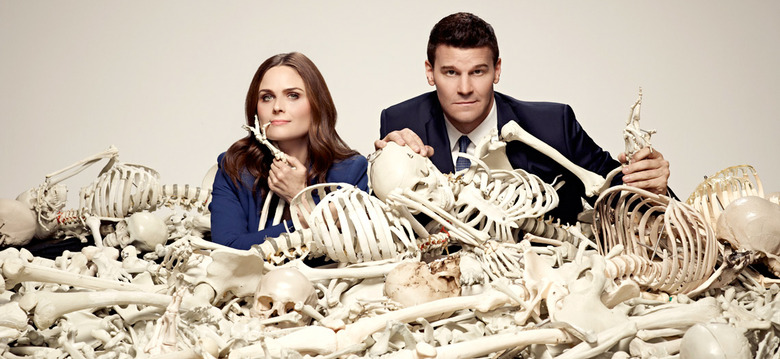 You Bones fans are a loyal bunch, because the Fox series has been on the air for 11 years. Over that decade and some change, a total of 220 episodes were made. The show kept going and going, but it has just been announced the 12th season will be its last season.
Below, the showrunners and actors comment on news of the Bones final season.
I've never watched the Fox show, which stars Emily Deschanel and David Boreanaz, but it has its fans, clearly. The season premiere was watched by almost 11 million viewers, and for the most part, the ratings stayed strong over the years. The program tended to draw in eight million people, and those fans will finally get a sense of closure.
In a statement released, the new showrunners Jonathan Collier and Michael Peterson shared their excitement for the final season and more:
We can give the show, characters and fans the end they so richly deserve. Also knowing there is a Season 12, we can now write the most rewarding Season 11 finale possible – one we hope will leave our fans excited for what's to come in this final season of Bones.
The creator of Bones, Hart Hanson, gave a very modest response,  thanking the fans and all involved in the show:
In times like these, marked by instability and doubt, it's comforting to know the world can count on at least one dependable beacon of stability. Apparently, that beacon is Bones. It just shows what you can do with an amalgam of genius cast, amazing crew, cunning writers, stalwart studio, sweat, a tough economy, a mercurial network, determination, luck, magic, miracles and the most loyal audience in the world.
The stars of Bones, Deschanel and Boreanaz, expressed their gratitude. Here's what Boreanaz had to say:
This is for the fans! Thank you to everyone at Fox and, of course, Dana and Gary – for all your support. Thank you to Hart, Stephen, Ian [Toynton], Michael and Jonathan. Also to the crew and cast for their countless support along the way! And I couldn't have done it without you, Emily!
And, finally, Deschanel had this brief statement to add:
I am thrilled the show will have the ending it deserves for all of our amazing, loyal fans.
Bones is currently on a break, but season 11 will continue on April 14th. By the end, there will be a total of 246 episodes. For anyone that wants to watch Bones after it's done, that's quite a daunting number of episodes, but the fans managed to do it after all these years. Following over a decade of investment, hopefully those dedicated viewers will be satisfied with the ending they get.