'Skull Island: Reign Of Kong' Photos/Video Revealed In Universal Orlando First Look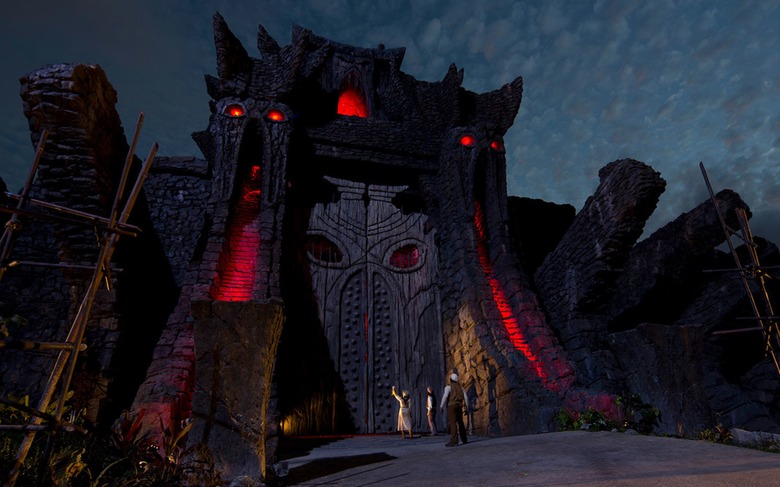 Universal Orlando will soon be adding a Skull Island: Reign of Kong ride to Universal's Islands of Adventure. The theme park revealed some concept art for the upcoming attraction this past Summer, and now construction on Skull Island in Orlando has progressed to a point where Universal is showing us a first look at the actual attraction, while giving us a behind the scenes look at the ride's creation and the story behind the new park experience. Hit the jump to watch the behind the scenes video and see the first Skull Island Reign Of Kong photos.
The Making Of Skull Island: Reign Of Kong
Universal Orlando revealed details about what park guests will experience when they ride Skull Island: Reign Of Kong when it opens Summer 2016:
It all begins with Skull Island – a land shrouded in mystery, steeped in ancient tales of colossal creatures fighting for dominance of a lost world. The name alone is enough to keep any adventurous soul from setting foot on its foreboding shoreline, to say nothing of mustering the courage to explore its terrifying interior. Despite the apprehension of such an undertaking, you decide to join the 8th Wonder Expedition Company on their daring research adventure. Your mission: to discover species of unknown origin dwelling within the hidden mysteries of the island. Your hope is to substantiate the existence of prehistoric creatures.
Your first objective is to reach the communication base amid the outlying ruins. Communication is key and a crackling radio broadcast from scientists, expedition leaders and fellow explorers warns of the treacheries that lay ahead. Undaunted—though certainly a bit uneasy—you head towards your next objective: the 8th Wonder Expedition base camp. There is a hypnotic presence in the rhythmic beating of distant drums that draws you deeper and deeper into an ancient ruin, almost against your will. Signs of a native presence become evident. But are they still around? Finally, you make it through to base camp and expedition vehicles. You set off for the heart of the island to rendezvous with your expedition leader.
Within minutes, you come upon a massive temple wall. Drums beat, flames arise, huge wooden doors swing open and you drive through. You now face a dark labyrinth of caves where danger lurks around every bend. You manage to narrowly escape the caves... but the jungle ahead holds yet another breathtaking challenge. Suddenly, you find yourself in the midst of a raging struggle between creatures of incomprehensible size and ferocity. All seems lost until, from out of nowhere, a deafening roar cuts through the melee. The mighty Kong has arrived! But is he friend or foe? Well, you'll have to find out this summer.
So it sounds like this will be a little more than the King Kong 360 tram tour experience currently featured at Universal Studios Hollywood. Executive Producer Mike West has said that the ride will feature "revolutionary" vehicles, taking guests on a journey throughout Skull Island, across "massive sets, massive ride vehicles, massive characters and creatures, and a massive story."
The ride is expected to be a combination of the Kong 360 experience, huge sets and animatronics as well as other 3D projected scenes — something — imagine something likeTransformers: The Ride but on a tram vehicle. Which makes sense, West was lead on rides such as "The Simpsons," "Despicable Me: Minion Mayhem," and "Transformers: The Ride — 3-D." I'm excited to visit Skull Island when it opens in Summer 2016.
Skull Island: Reign of Kong Concept Art and Poster
Skull Island: Reign Of Kong Trailer
Skull Island: Reign Of Kong Featurette
Executive Producer Mike West reveals details about a new attraction coming to Universal Orlando Resort's Islands of Adventure in Summer 2016, Skull Island: Reign of Kong.