Tye Sheridan To Lead Steven Spielberg's 'Ready Player One'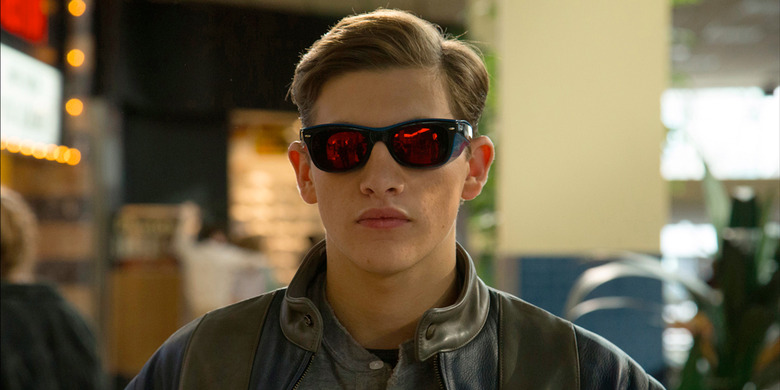 A few weeks ago when Ready Player One got bumped to 2018, to avoid the unstoppable Star Wars Episode VIII, Angie noted director Steven Spielberg and all involved were still searching for a male lead. Well, it looks like they've found their guy, because it's just been reported Tye Sheridan will star in the film.
Learn more about the adaptation of Ernest Cline's hit novel below.
The Wrap says Sheridan has joined the Ready Player One cast alongside Olivia Cooke (Me and Earl and the Dying Girl) and Ben Mendelsohn (Bloodline). Back in September, when Cooke signed on, it was said that Spielberg was hoping to cast the two leads at the same time, but that he just couldn't find the right male lead.
If Zak Penn's adpatation of Ready Player One isn't a huge departure from the source material, then Sheridan will play Wade Watts, who finds the first of the three keys, in a virtual reality space called OASIS, that could give him the power to control the world. Ready Player One is, as Spielberg described it, both a cautionary tale and a "big rockin' adventure movie":
A crystal ball into exactly what is going to be happening not in 30 or 40 years but in between five and ten years from now, where a virtual world becomes almost like a drug of choice and where we are spending more time in a nonorganic space than we are breathing and eating and interacting in real life. This movie is going to show why it's interesting not living in the real world but what we're missing by not. It's a cautionary tale but it's also a big rockin' adventure movie, too.
This won't be Sheridan's first big studio movie. He plays Cyclops in this summer's X-Men: Apocalypse. The actor made his debut in Terrence Malick's Tree of Life back in 2011, and he's been a part of some high-quality movies since then (most notably, Jeff Nichols' Mud). Spielberg has found a fine leading man for Read Player One, which, as the director stated, will not feature any references to his own work.
With three of the leading roles locked down, we should expect to hear more casting news soon. Maybe we'll even get more information on whether Spielberg actually met with Gene Wilder for a role. Some fans suggested he'd be perfect for the role of OASIS creator James Halliday.
Ready Player One opens in theaters March 30th, 2018.