Check Out These Stellar John Hillcoat Mondo Posters For 'The Road' And More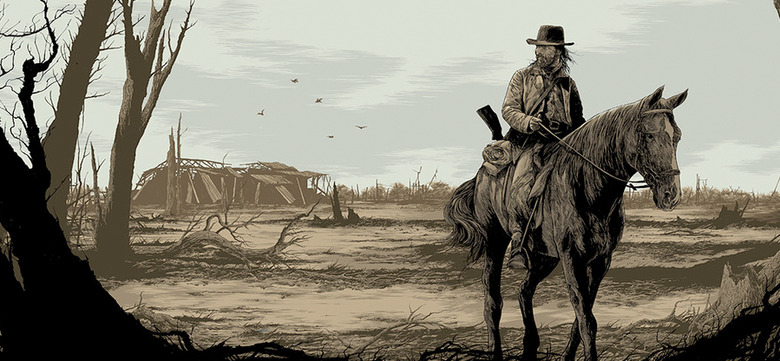 John Hillcoat has a new film opening in theaters this weekend. The reviews for the director's crime thriller, Triple 9, have been somewhat mixed, but any fan of Hillcoat's, especially admirers of Lawless, will most likely enjoy his latest picture.
To celebrate the release, Mondo has made some striking posters for a few of his previous film, and you can get the details on how to purchase each of the John Hillcoat Mondo posters below.
Amongst most of Hillcoat's fans, The Proposition is still considered the director's best work. Unsurprisingly, Mondo did not disappoint with its poster for that film. It's the one to get, but if you're a bigger fan of Lawless or The Road, then you should be happy to see the other posters do those films justice as well.
Mondo had this to say about the John Hillcoat Director Series:
We're huge fans of John Hillcoat here at Mondo. Each of his films are wholly and uniquely different from one another, but all share a common thread which explores the various aspects of the human condition.
With his newest film, TRIPLE 9, opening in theaters this Friday, we wanted to celebrate John Hillcoat's stellar feature filmography including Australian western THE PROPOSITION by Ken Taylor, post-apocalyptic drama THE ROAD by Randy Ortiz, Prohibition-era bootlegging tale LAWLESS by Edward Kinsella and TRIPLE 9 by Jay Shaw, which follows a modern story focusing on criminals and corrupt cops in Atlanta.
It was an honor to work closely with a filmmaker we respect so much and are excited to release these posters tomorrow!
Per usual, these prints will be available to purchase at an unspecified time, but if you follow Mondo on Twitter, their feed will alert you when they're available.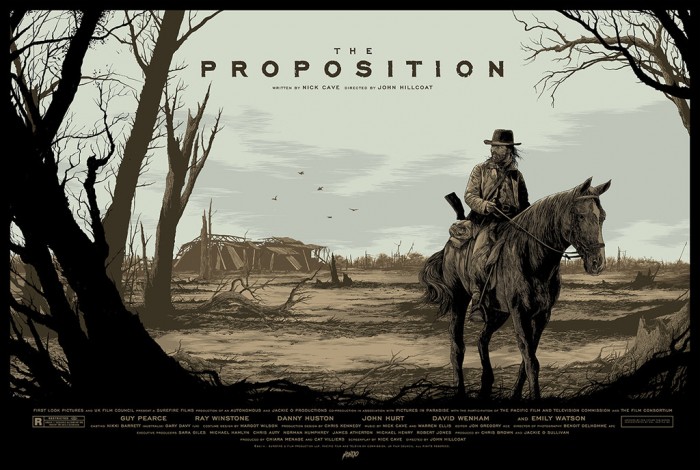 The Proposition by Ken Taylor
36" x 24" Edition of 275
Printed by D&L Screenprinting
$45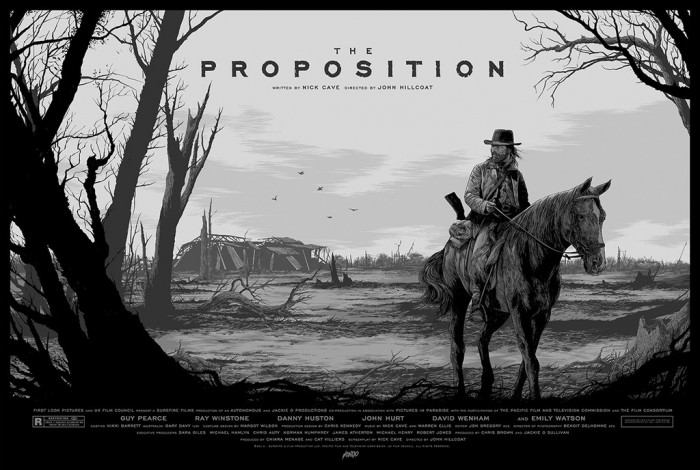 The Proposition (Variant) by Ken Taylor
36" x 24" Edition of 125
Printed by D&L Screenprinting
$65
The Road by Randy Ortiz
24" x 36" Edition of 225
Printed by D&L Screenprinting
$45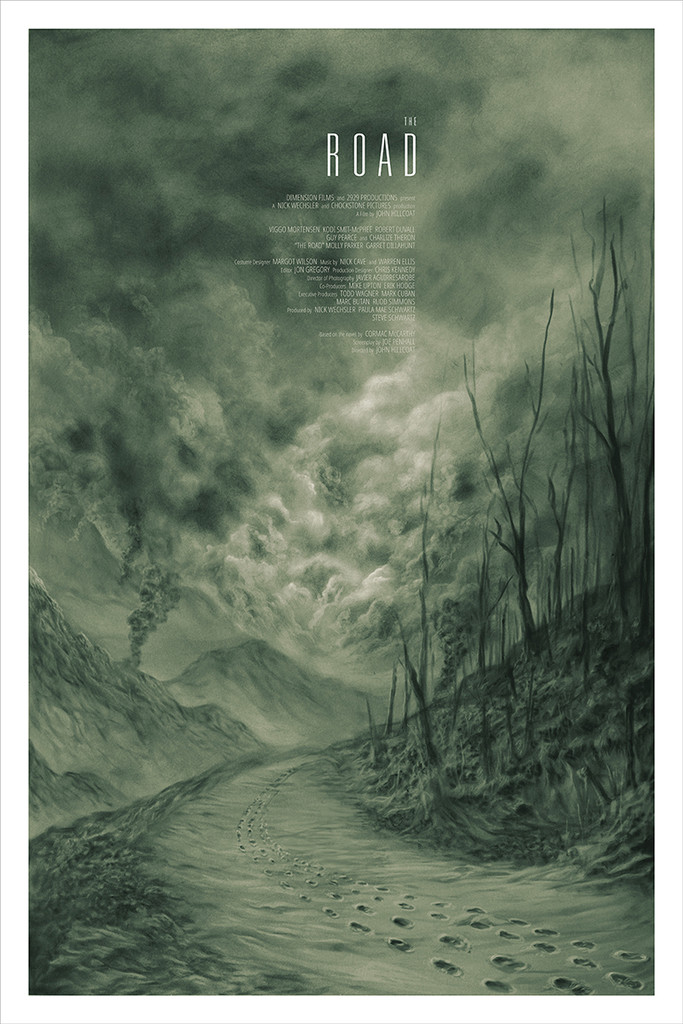 The Road by Randy Ortiz
24" x 36" Edition of 125
Printed by D&L Screenprinting
$65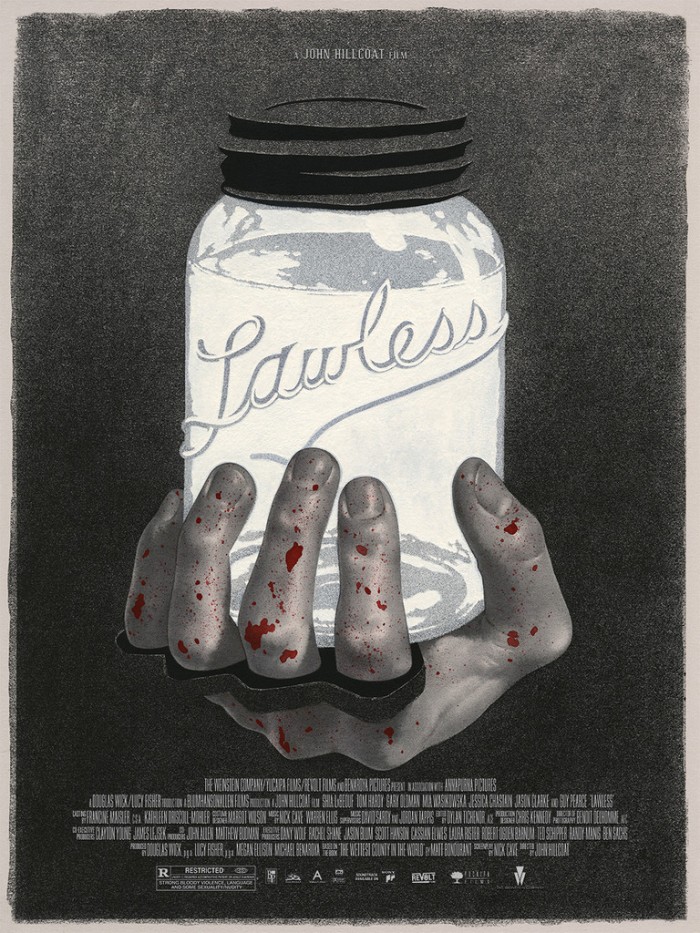 Lawless by Edward Kinsella
18" x 24" Edition of 100
Printed by D&L Screenprinting
$40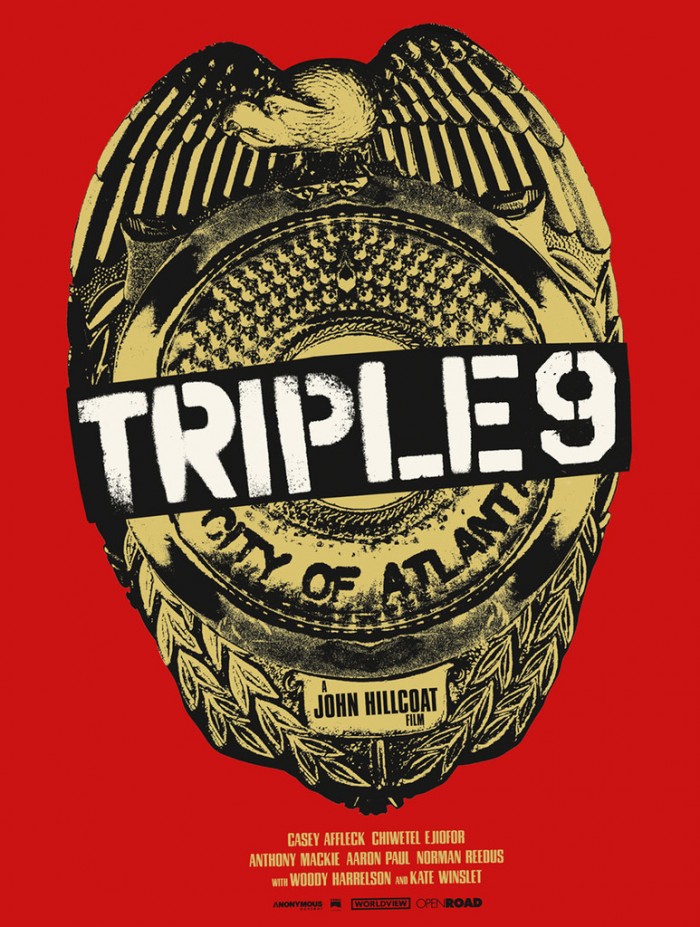 Triple 9 by Jay Shaw
18" x 24" Edition of 125
Printed by Industry Print Shop
$40
In the announcement, Hillcoat shared his admiration for Mondo:
I've always loved film posters from the past because they had a bold graphic flair to them, they gave films a unique and richer identity. Mondo posters and their impressive roster of artists updates and restores that honor to the movies.
The Triple 9 poster is maybe even more reflective of the film than the official posters and marketing released thus far. As aggressive as that excellent red band trailer was, that's not really what kind of movie Triple 9 is. It has some of the raw, brutal energy we saw there, but when it comes to pacing, it's slightly more old school, like that Mondo Triple 9 poster.
The film takes its time — and it could've used even more breathing room to flesh out a few side characters — but, as aforementioned, if you're a Hillcoat fan, you should be pleased with Triple 9. It's both a familiar and new film from the acclaimed filmmaker.
Here's the official synopsis for Triple 9:
In Triple 9, a crew of dirty cops is blackmailed by the Russian mob to execute a virtually impossible heist and the only way to pull it off is to manufacture a 999, police code for "officer down." Their plan is turned upside down when the unsuspecting rookie they set up to die foils the attack, triggering a breakneck action-packed finale tangled with double-crosses, greed and revenge.
Triple 9 opens in theaters February 26th.