'Pacific Rim 2' Is Back On With 'Daredevil's Steven S. DeKnight Directing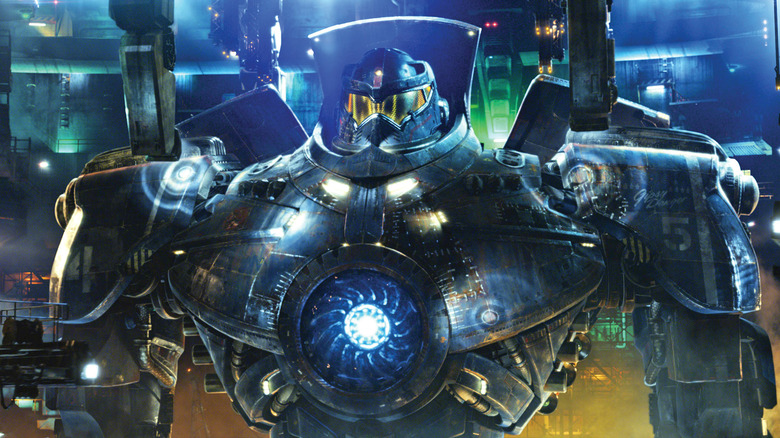 The past couple of years have been a real roller coaster ride for Pacific Rim fans. The film's limp U.S. box office dimmed hopes of a sequel, before a strong overseas performance got Universal interested again. A release date was set and everything seemed on track for more jaeger vs. kaiju fights... and then Universal got cold feet and put the whole thing on hold. Through it all, Guillermo del Toro insisted Pacific Rim 2 was not dead, and now it looks like his optimism is finally panning out.
Legendary Pictures has hired Spartacus creator and Daredevil season 1 Steven S. DeKnight to helm the sci-fi action sequel, while del Toro will remain on board as a producer. Universal Pictures is still set to distribute.
Deadline broke news of the new Pacific Rim 2 director. Pacific Rim 2 will mark DeKnight's feature directing debut, but he's a TV vet. Besides creating Spartacus, DeKnight has also worked on Buffy the Vampire Slayer, Angel, Smallville, and Dollhouse. He took over as the Daredevil showrunner when Drew Goddard dropped out, and then dropped out himself after the first season due to other commitments. (Doug Petrie and Marco Ramirez are the showrunners for Daredevil season 2.) DeKnight also recently joined the Transformers writers room.
Originally, the plan was for del Toro to direct Pacific Rim 2 in late 2015 for release in summer 2017. However, after Universal pulled the plug and yanked Pacific Rim 2 off its release calendar, del Toro moved on to other projects including Fantastic Voyage and Scary Stories to Tell in the Dark. Nevertheless, he continued to assure fans that he wasn't giving up. And last month, it looked like the tides were finally turning in Pacific Rim's favor. Legendary Entertainment was acquired by the Wanda Group, a conglomerate in China — where Pacific Rim was a box office smash, not the dud it was in the U.S.
Legendary's Thomas Tull and John Jashni will produce Pacific Rim 2 along with del Toro and Mary Parent. Legendary's Jillian Share will executive produce. Pacific Rim 2 has a script by Jon Spaihts. No new release date has been announced.