'Life On The Line' Trailer: John Travolta Plays A Real Salt Of The Earth Kind Of Man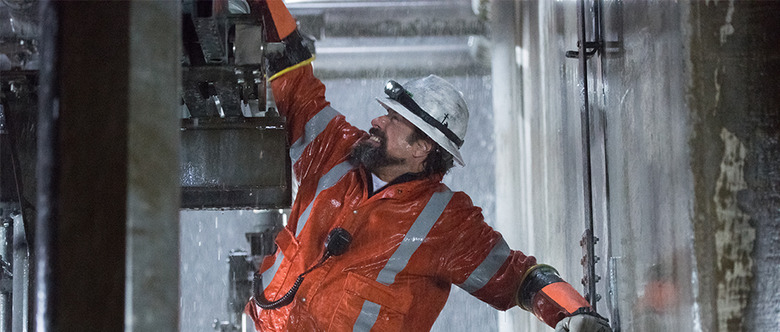 You should all be watching American Crime Story: The People v OJ Simpson. Based on the high ratings, a lot of you are watching the FX drama, but if you're not, you should check out the very addictive, fun and thoughtful drama, which features a great supporting performance from John Travolta. He goes big in the series, showing a whole new side of himself.
Travolta also appears a little different in Life on the Line, an upcoming drama starring the actor, Kate Bosworth, and Sharon Stone. Watch the Life on the Line trailer below.
While the Pulp Fiction and Saturday Night Fever star is operating on a more zany level in American Crime Story: The People v OJ Simpson, he's playing a real "salt of the earth man" in Life on the Line, which is actually how the plot synopsis describes his character, Beau. I'm guessing, based on the trailer, that Beau is the kind of salt of the earth man that's tough on the outside but also has plenty of heart and is good to have at your side during a fight.
Here's the Life on the Line trailer (via First Showing):
I'm definitely getting a Ladder 49 vibe from this trailer, because Travolta, once again, stars as a wise man's man who takes the new kid under his wing. Maybe there's more to it than that, but this trailer hits some of the expected story beats rather loudly.
David Hackl's (Saw V) drama definitely looks like a noble celebration of lineman. Will the film be more than that, though? The drama in the footage is very secondary. In fact, the strongest part of the trailer are the few facts you learn about lineman.
This is not a particularly good trailer, but keep in mind, Life on the Line does star John Travolta, and after his performance in The People v OJ Simpson, I'm more interested in watching his more recent features.
Here's the official synopsis:
Life on the Line is an exhilarating action drama, which follows the lives of a crew of eccentric and courageous Texan power line workers who do the extremely dangerous work of fixing the crumbling electrical grid. John Travolta stars as 'Beau', a salt of the earth man who blames himself for his brother's death and raises Bailey, his orphaned niece (Kate Bosworth). His worlds collide when Bailey's handsome lover joins his linemen crew on the eve of a massive and deadly storm that threatens to rip their lives apart.
Life on the Line currently does not have a release date.