NBC's Un-Superhero Comedy 'Powerless' Adds Alan Tudyk, Danny Pudi, And More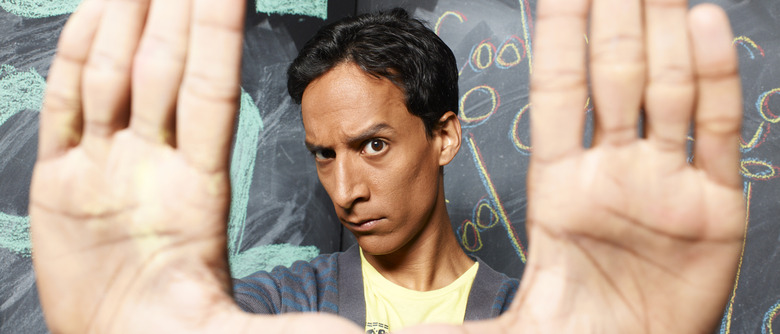 Ever notice how every single superhero movie seems to end in a massive battle that destroys an entire city? Ever wonder whose job it is to foot the bill and sort through the paperwork afterward? As it happens, NBC is developing a single-camera comedy about just those folks. Powerless follows a group of totally normal people who work in a totally normal insurance company, only they happen to exist in a world with DC superheroes — and all the inconveniences that suggests. (You try getting home in time for your kid's birthday party when the subways are jammed yet again because some flying dude in a unitard decided he just had to smash an evil alien into the railway.) '
But what the characters of Powerless lack in superpowers, they make up for in geek cred. Powerless has just added Firefly's Alan Tudky and Community's Danny Pudi to the cast, along with Vanessa Hudgens and Christina Kirk (NBC's A to Z). More on the Powerless cast, including character details, below. 
Yesterday, THR reported Hudgens would lead Powerless as Emily Locke, "an insurance claims adjuster who finds herself increasingly exasperated by the disruptive antics of the various superheroes that proliferate in her city." Today, they've added three more (via ComicBook.com):
Danny Pudi is Teddy, best friend of Emily (Vanessa Hudgens) at work and her trusted confidante. He spends his days creating time-wasting pranks as a way to make their office, the "least Super place on earth," just a little less "unsuper."
Alan Tudyk is Del, Emily's new boss in the claims department. Del has just been promoted — not through any merit of his own, but because he's the owner's son. A self-proclaimed "rich, over-educated globetrotting wastrel," Del is a power-mad disastrous dictator of a boss.
Christina Kirk is Jackie. A fan of Super Heroes, Jackie has plastered her office cubicle with beefcake shots of super guys. New claims department boss Del makes her his personal assistant, and she begins buckling under his unreasonable and impossible demands.
Superhero shows are all the rage right now, and NBC is the only major broadcast network without one. (For those keeping count, ABC currently has Agents of S.H.I.E.L.D. and Agent Carter, CBS has Supergirl, Fox has Gotham, and The CW has the entire Arrowverse.) It makes sense they'd want to get in on that trend, and it seems smart of them to start with a premise that automatically sets it apart from all those other series. It probably doesn't hurt, either, that Powerless evokes another of NBC's biggest hits in recent years — it's basically The Office plus superpowers.
Hudgens is coming off of an acclaimed performance in Fox's Grease Live!. Pudi shot an NBC pilot, Strange Calls, last year, but the series did not move forward. He is technically part of the Marvel Cinematic Universe, as he had a small cameo in Captain America: The Winter Soldier. Tudyk will be heard next month in Disney's Zootopia, and also has Moana and Star Wars: Rogue One coming up. Kirk, like Pudi, recently did an NBC pilot (Cuckoo) that did not get picked up.
Ben Queen is writing the pilot for Powerless, which will be directed by Michael Patrick Jann. Queen and Jann, who previously worked together on A to Z, will also serve as executive producers. All four actors named above will be series regulars.