Official Synopsis For 'Marvel's Most Wanted' Hints At Some Big Twists For 'Agents Of S.H.I.E.L.D.'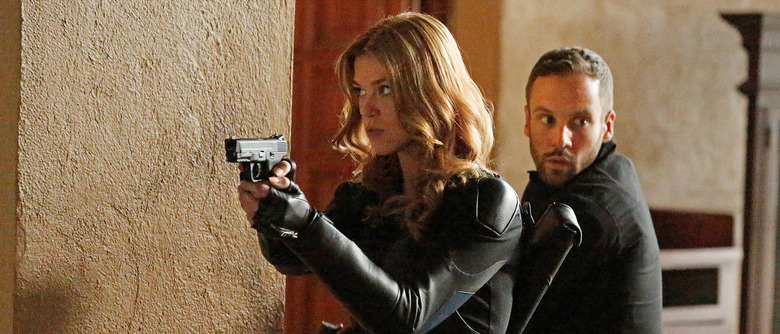 First ABC decided they wanted an Agents of S.H.I.E.L.D. spinoff, and then they decided they didn't, and then they felt like they weren't sure, and then, way back in August, they finally gave Marvel's Most Wanted an official pilot order. Now some more details have been revealed about the new series featuring Bobbi Morse (Adrianne Palicki) and Nick Blood (Lance Hunter), and it suggests some interesting developments up ahead for Agents of S.H.I.E.L.D. Read the first official Marvel's Most Wanted synopsis below. 
Here's how ABC describes Marvel's Most Wanted (via CBR):
Centers on Bobbi Morse (a.k.a. Mockingbird) and Lance Hunter of "Marvel's Agents of S.H.I.E.L.D., two ex-spies and ex-spouses who are on the run with no friends, no S.H.I.E.L.D. and a long list of enemies looking to claim a bounty on their heads. Able to trust no one but each other, Bobbi and Hunter form an uneasy alliance with Dominic Fortune, a rogue adventurer with a wealth of resources and even more adversaries, who agrees to protect them so long as they help him with his own agenda. These two heroes will help anyone in need, all while trying to uncover the conspiracy that put their own lives in jeopardy.
Delroy Lindo plays Dominic Fortune, and Jeffrey Bell, Paul Zbyszewski, Jeph Loeb, and Jim Chory serve as executive producers. Bell and Zbyszewski also wrote the pilot.
ABC has only ordered a pilot for Marvel's Most Wanted at this point, so there's no guarantee it'll become a full-fledged series. Nor has ABC said when exactly the episode will air, or how it'll fit with the ongoing third season of Agents of S.H.I.E.L.D. But the Marvel's Most Wanted synopsis definitely seems to hint at some dark times ahead for everyone's favorite fictional agency. What's going to happen with Bobbi and Hunter that's so bad, they're left to their own devices without any of their S.H.I.E.L.D. allies to turn to? And will it be interesting enough to justify plucking two of S.H.I.E.L.D.'s best loved characters and sending them off on their own series?