'Last Week Tonight With John Oliver' Rips Into Hollywood Whitewashing: "How Is This Still A Thing?"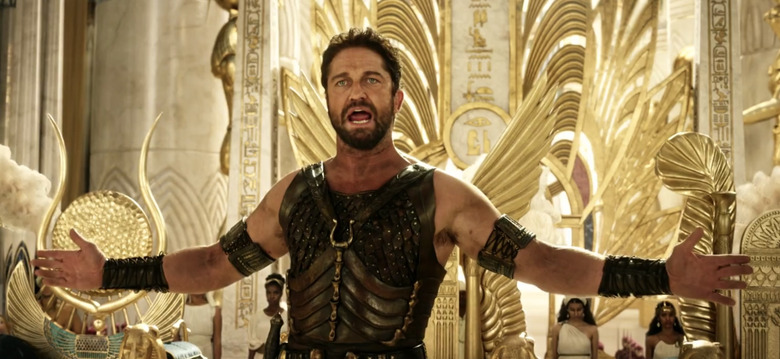 The 88th Oscars don't take place for another several days, but we can already say with absolute certainty that all four winners in the acting categories will be white — because for the second year in a row, only white actors were nominated. #OscarsSoWhite has been the defining controversy of this year's awards season, sparking uncomfortable and long overdue conversations about who wins these awards, and why, and what should be done about it.
But #OscarsSoWhite is really only the tip of the iceberg when it comes to Hollywood's race problem. There's also the fact that roles for people of color are all too rare to begin with. And then even when they do exist, they often wind up getting filled by white actors. In last night's episode of Last Week Tonight, John Oliver and his team took on Hollywood whitewashing, asking, "How is this still a thing?" Watch the John Oliver Hollywood whitewashing segment after the jump. 
The Last Week Tonight segment is probably most helpful for people who aren't terribly familiar with Hollywood's embarrassing practice of "whitewashing," or casting white actors as characters of color. If you've been a close follower of #OscarsSoWhite and similar controversies, there probably won't be a whole lot in here that you don't already know. But either way, it's great fun to watch Last Week Tonight give Hollywood the savage takedown it deserves.
Along the way, Last Week Tonight also tears apart some of the more popular defenses of whitewashing. Like the time Ridley Scott argued Exodus: Gods and Kings couldn't have gotten the budget it needed if he'd cast "Mohammad so-and-so from such-and-such" as his lead actor. "Yeah, you needed the white-hot star power of whoever the fuck this guy is," snarks the Last Week Tonight narrator while showing a photo of Joel Edgerton as Ramses.
"Maybe all of this would be less egregious if any time an actor of color took on a traditionally white role, half the country didn't go apeshit," adds the narrator, in reference to the outrage that followed Quvenzhané Wallis' casting in Annie, Michael B. Jordan's in Fantastic Four, John Boyega's in Star Wars: The Force Awakens, Amandla Stenberg's in The Hunger Games, and rumors about Idris Elba's casting as the next James Bond.
Plus, as Last Week points out, even on the rare occasion that Hollywood manages to make movies about people of color and cast actual people of color to star in them, the industry still struggles at times to look beyond the white experience: "This isn't even getting into how movies about minorities will still put white people in the foreground. How are we supposed to believe Tom Cruise is the last samurai?"
And lest you think this is a problem of the past, the segment sarcastically plugs "Gods of Egypt, opening Friday, starring a Scottish guy." Again, none of this will feel like new info if you're already tuned into these controversies — the Gods of Egypt filmmakers have already issued an apology for its lily-white casting choices. And yet it keeps happening, which indicates some people in Hollywood still haven't gotten the message. Maybe loud public ridicule from John Oliver will finally do the trick.