New 'Star Wars Land' Concept Art Revealed During 'Disneyland 60' Special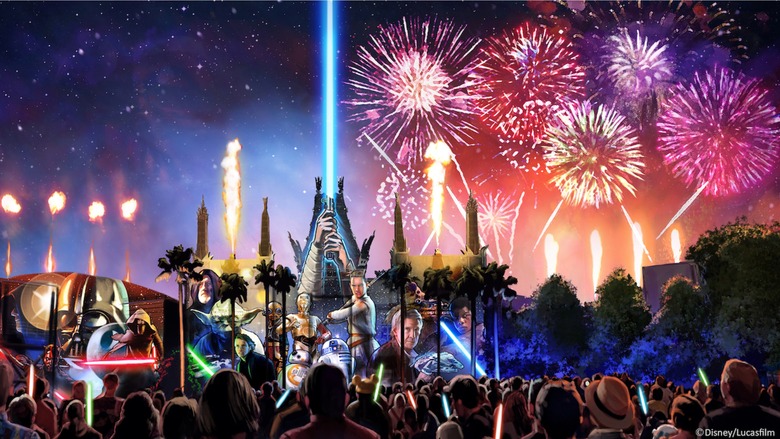 It's been about six months since Star Wars Land at Disneyland and Walt Disney World Resorts was first announced at D23, and in that time we've come up with tons of questions and not very many answers. That didn't exactly change with tonight's big Star Wars Land preview on ABC's The Wonderful World of Disney: Disneyland 60 special — we still don't know when exactly it'll open, and we don't know that much about what rides, stores, etc. to expect – but we did get a better sense of what the themed area will look like.
A whole bunch of new Star Wars Land concept art was revealed during the show, teasing a Millennium Falcon attraction, a Star Wars-themed street market, a cantina, a dinner club, and much more. Flip through the gallery of Star Wars Land concept art, and watch a video of the Star Wars Land presentation after the jump. 
Some of the Star Wars Land concept art below was previously revealed at D23, and some of it seems to be brand-new. We'll update with higher-quality images as they become available.
And to see all that gorgeous concept art in context, here's a video of the Star Wars Land presentation from the TV special. Harrison Ford was on hand to introduce the Star Wars segment, which also included a medley of Star Wars music.
Star Wars Land promises to "bring this galaxy to life" through the combined forces of Lucasfilm and Disney Imagineering. Guests will have the chance to take "complete control" of the Millennium Falcon, and get caught up in the middle of a battle between the Resistance and the First Order. Or, if you're in the mood for something a little less adrenaline-pumping, you can walk around Star Wars Land "meeting droids and aliens," "entering an otherworldly street market," "actually tasting the local delicacies" (including blue Bantha milk), "going upscale at the planet's best dinner club," or "heading down to the local cantina."