LOL: Seth Meyers Brings 'Game Of Thrones' Melisandre To A Baby Shower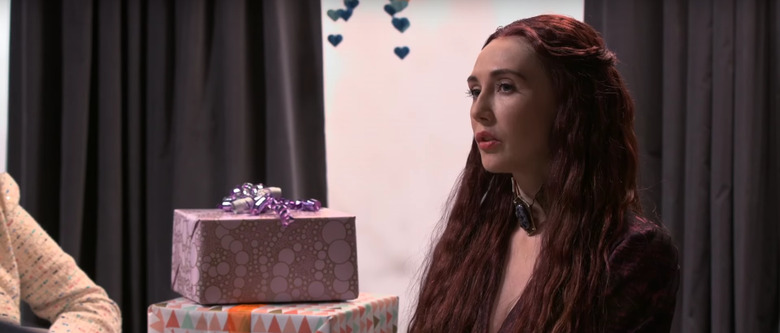 Within the context of the show, the characters of Game of Thrones make perfect sense. When winters last years, not months, it's no wonder "winter is coming" sounds more like a dire warning than a pleasant bit of small talk; when zombies and dragons and shadow babies roam the earth, "the night is dark and full of terrors" just feels like common sense advice. And if they tend to come across as grim and a bit overly intense? Well, to them, the entire universe is grim and overly intense.
But what happens when these characters step outside of Game of Thrones and into a world more like ours? In a funny new clip, Seth Meyers brings his old college buddy Melisandre to his wife's baby shower. To his chagrin, he discovers that while you can take the girl out of Westeros, you can't take the Westeros out of the girl. Yep, it turns out Melisandre is as bad at baby showers as Jon Snow is at dinner parties. Watch the Seth Meyers Melisandre sketch below.
Carice van Houten looks like she's having a lot of fun playing Melisandre as a puzzled baby shower guest, and her delivery, as always, is just perfect. But my favorite moment might be that fake smile she gives early in the skit, when Seth informs her that these events are supposed to be "positive" and "upbeat." And for all you Jon Snow truthers, there's a cute little wink to the ongoing question of what really happened that night up at the Wall.
In a weird way, this whole sketch is kind of relatable. Who hasn't been in that awkward situation where they try to reconnect with an old friend from years ago, only to realize you have nothing in common anymore? Granted, most of us wouldn't react by setting the most annoying guest at the party on fire, but maybe that's only because most of us don't have the supernatural capability to pull that off.
Game of Thrones season 6 premieres April 24. Van Houten currently stars opposite Stephan James and Jason Sudeikis in Race, where she plays Leni Riefenstahl. While we wait for more Game of Thrones, might we suggest you revisit Jon Snow's group hang with Seth Meyers below?