'Unbreakable Kimmy Schmidt' Season 2 Teaser: Kimmy Walks The Runway!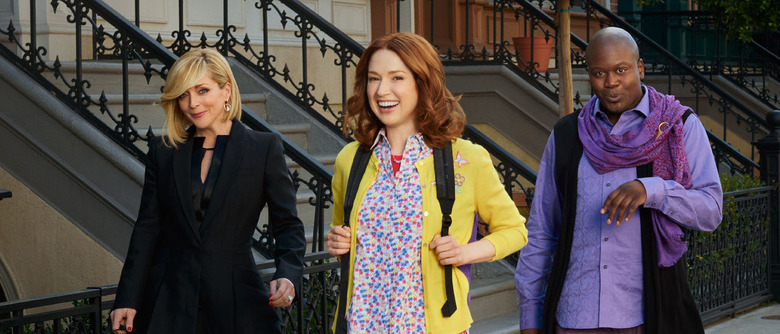 As New York Fashion Week draws to a close, a late-breaking contender for this year's best collection has just hit the runways. No, it's not the latest from Marc Jacobs or Kate Spade or Kanye West. It's Netflix's "Spring 2016 Sparkly Shoe Resort Line," as modeled by the unbreakable Kimmy Schmidt.
... Okay, you got us. We're not talking about a real fashion line here. We're talking about the first Unbreakable Kimmy Schmidt season 2 teaser trailer, in which Kimmy (Ellie Kemper), Jacqueline Voorhees (Jane Krakowski), and Titus Andromedon (Tituss Burgess) strut their stuff like the world's most elite supermodels. Watch the super sweet, super stylish video after the jump. 
It's not really a trailer, just a cute little promo to remind you that Kimmy and her pals will be back for season 2 in a couple of months. And the teaser doesn't really even make sense unless you get that it's a riff on New York Fashion Week. But it's a pretty perfect distillation of the show. Titus and Jacqueline are both trying to give off that cool, jaded New Yorker attitude against a sleek black-and-white backdrop... and then along comes Kimmy to throw some confetti and color into the mix. She ruins the chic vibe of the whole thing, but suddenly everything looks funnier and sunnier.
The first season of Unbreakable Kimmy Schmidt was a gem, a hilarious show that exposed deeper, more surprising layers as the show went on. At first, Kimmy seemed like exactly the kind of simple small-town girl that'd get eaten alive in a city like New York, but the more we got to know her the more we understand how exactly why "unbreakable" is the first word in that title. Don't let that giant grin and that childlike fashion sense fool you — this girl's got more grit and steel to her than even the toughest New Yorkers.
Plus, this show was just flat-out hilarious. Who could ever forget Titus' "Peeno Noir," his very classy "ode to black penis"?
We're saving the best for last. Spring 2016 Sparkly Shoe Resort Line – Kimmy Schmidt Style.
Ellie Kemper stars as Kimmy Schmidt, a woman who escapes from a doomsday cult and starts life over in New York. After living in a cult for fifteen years, Kimmy decides to reclaim her life and start over in New York City. Armed with just a backpack, light-up sneakers, and a couple of way-past-due library books, she's ready to take on a world she didn't even think existed anymore. Wide-eyed but resilient, nothing is going to stand in her way.
Created by Tina Fey (30 Rock) and Robert Carlock (30 Rock), who serve as executive producers with Jeff Richmond (30 Rock), Jack Burditt (30 Rock, The Mindy Project) and David Miner (30 Rock, Brooklyn Nine-Nine).
Unbreakable Kimmy Schmidt returns for season 2 on April 15.