'The Dark Tower' Casts 'Mad Max: Fury Road' Star Abbey Lee, But Who Is She Playing?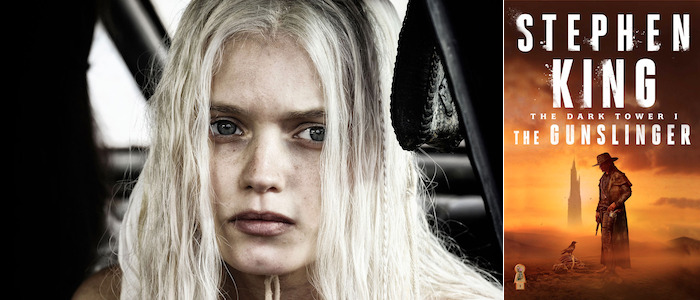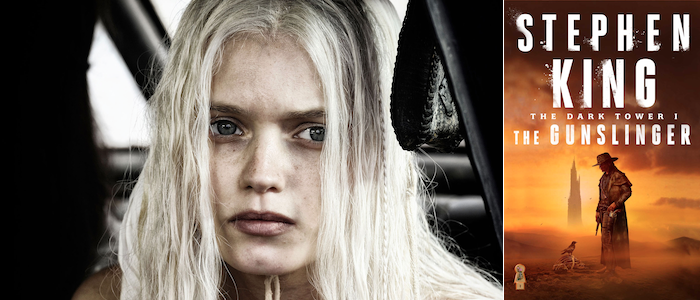 After many, many years of on-again, off-again development, Stephen King's The Dark Tower looks closer than ever to the big screen. Idris Elba and Matthew McConaughey are set to lead the Western fantasy epic being directed by Nikolaj Arcel, and now the heavyweight duo are being joined by an up-and-comer: Abbey Lee, who made her big-screen debut last year in Mad Max: Fury Road. Which is all fine and dandy, except her casting has some readers scratching their heads. Which character, exactly, is she playing? 
According to
, Lee is in talks to play the female lead role in The Dark Tower. Where this gets confusing is the character's name: she's reported to be playing Tirana, a minor character who doesn't even appear until the seventh volume of King's Dark Tower book series, on which the film is based. Tirana is definitely not the female lead in the novels. In fact, she's so obscure that even hardcore fans don't seem quite sure who she is — I've seen some readers swear up and down that no one named Tirana exists in the books.
One possibility is that Lee's Tirana is a renamed version of a different, more prominent character from the novels, possibly Susan or Susannah. (The latter is the female lead in the book series, but doesn't appear until the second novel so it's unclear if she'll be in this film at all. She's also black, so Lee would be a really bizarre and controversial casting choice.) It may also be that the trade's sources just have their details mixed up. For what it's worth, though, they describe Lee's character as "sexy and dangerous," with "fake human skin and cold snake-like eyes."
For the uninitiated, here's how Jacob previously explained The Dark Tower:
The Dark Tower series takes place in a desolate post-apocalypse that contains shades of horror, medieval fantasy, spaghetti westerns, and dark science fiction. Roland the gunslinger is the last of his kind, a pistol-packing warrior/cowboy searching for the Dark Tower, the mysterious center of the universe. When he first meet him in the pages of The Gunslinger, he's hunting for the mysterious "man in black," the villain who destroyed Roland's world. King later revealed that the man in black, who goes by many identities, is actually Randall Flagg, a recurring and cosmically powerful villain who rears his ugly head throughout several of his novels, including The Stand.
Lee is a model who transitioned into acting last year with Mad Max: Fury Road. She'll be seen later this year in Gods of Egypt (which reunites her with her Mad Max co-star Courtney Eaton) and The Neon Demon. Whoever Tirana turns out to be, she could help raise Lee's profile in a big way. The film is on track for a January 13, 2017 release, and is expected to kickstart a whole franchise of Dark Tower movies.