A Live-Action Homer Simpson Will Answer Fan Questions On 'The Simpsons'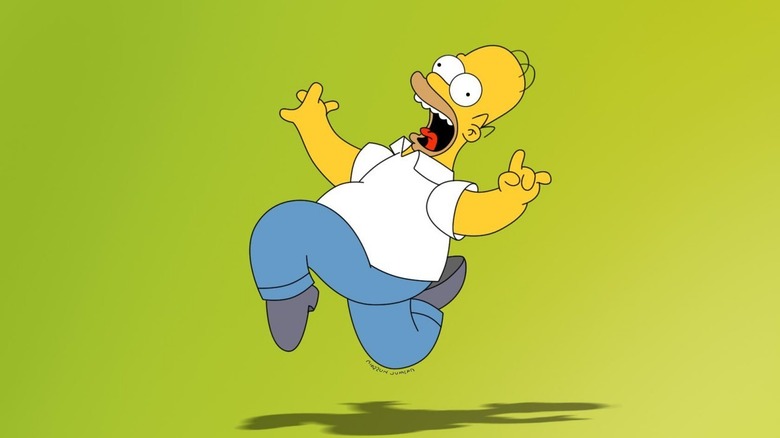 The Simpsons just keeps going and going. Created in 1989, the animated Fox show has gone on to have a total of 27 seasons and counting. About half those seasons are either very good or simply great, but the program has lost some fans over the years, while also gaining newer and younger fans. A lot of people still tune into The Simpsons, and those viewers will soon have the opportunity to ask a live-action Homer Simpsons a few questions.
Learn how after the jump.
According to Variety, this summer an episode of The Simpsons will feature a live segment focused solely on the endearing, beer-guzzling Homer Simpson, in which he'll comment on the events that day and answer fan questions. They'll accomplish this transformation through motion-capture.
The Wrap was able to get a few more details regarding this episode. The final three minutes of the May 15th show will animate Dan Castellaneta in real-time. After providing the voice to Homer Simpson for the past 27 years, Castellaneta will finally be able to play the physicality of the character — which should be interesting to watch.
Executive producer Al Jean tells The Wrap they'll make sure audiences know what they're seeing is indeed live. Castellaneta will be providing "on-the-fly voiceover," but Jean and the writing staff will be present in a booth/motion-capture facility, to offer up any notes, lines, or other suggestions. Jean has had this idea for a while, but apparently it picked up some steam after Grease: Live, most likely meaning Fox saw some potential in plastering "LIVE!" all over TV spots for an episode of The Simpsons.
Fans will also be able to participate in this event. The two live airings, for the East Coast and West Coast, will feature different Q&As. If you're interested in posing a question, all you have to do is use the hashtag #HomerLive starting May 1st through May 4th. So, just make sure not to forget about this episode for the next three and a half months and maybe you'll be able to ask Homer/Castellaneta a question.
Hopefully this ends up playing as more than a gimmick, because that's what happened with The Simpsons and Futurama crossover episode. Obviously making Homer live-action — which I'm betting will either be delightful or delightfully creepy — is different from mashing together two shows, but if you've lost faith in The Simpsons by this point, you're probably expecting disappointment or just aren't interested. As for the fans of the show, this will probably be a treat for them.
See the live-action Homer Simpson on May 15th.