Ryan Reynolds Interviews Hugh Jackman: Why Doesn't 'Eddie The Eagle' Shoot Lasers Out Of His Eyes?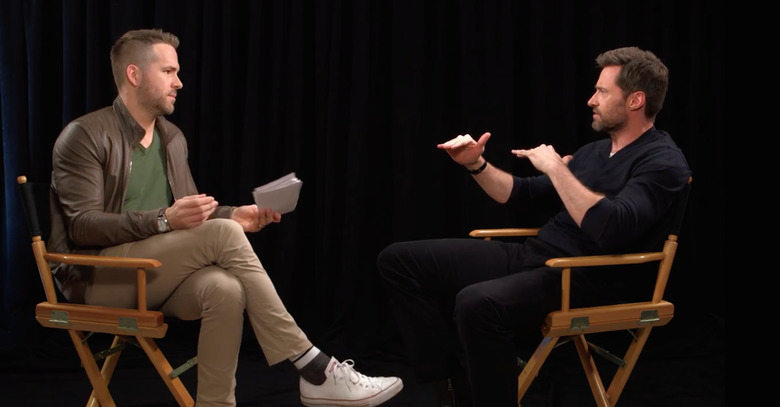 20th Century Fox had a very fine weekend. The studio's wild card, Deadpool, wildly exceeded box-office expectations. The critical and fan darling has already grossed over $150 million. For a fairly cheap superhero movie — and one the studio wasn't in a rush to make for a long time — that's about as fantastic of an opening weekend that the filmmakers could've hoped for.
And the studio has another movie coming out soon featuring another one of their heroes. Hugh Jackman stars in Eddie the Eagle, and to promote the film, Reynolds and Jackman got together for a highly informative discussion about the art of acting.
Watch the video below.
Jackman and Reynolds do not discuss the art of acting in this video. The video is pretty much what you expect from seeing the two very charismatic actors sharing a room together. Then again, we could've said the same for their screen-time together in X-Men Origins: Wolverine, but this interview gives them both a little more to do.
Watch the two charming actors be very charming and all in this self-deprecating Eddie the Eagle interview:
As expected, the two men knock X-Men Origins: Wolverine a decent amount. It's refreshing to see Jackman joke about the failed origin story, since he's generally careful discussing the more disappointing X-Men pictures, although he's admitted Origins didn't deliver for fans.
Like Reynolds, Jackman has starred in a few films that didn't work out. Audiences didn't embrace last year's Chappie and Pan, but that might not be the case for Eddie the Eagle. According to the early reactions, the film is the kind of delightful, funny, and heartwarming underdog story we're hoping for.
One last thing: you get the sense that Jackman and Reynolds actually enjoy each other's company in this interview, so it kind of makes their one time working together, X-Men Origins: Wolverine, more disappointing. They clearly have chemistry that was underutilized in the 2009 film.
Here's the official synopsis for Eddie the Eagle:
The film details the inspiring exploits of Michael Edwards, better known as "Eddie the Eagle," the most famous ski jumper in British history. The film's portrayal of Edwards' never-say-die approach to the sport, celebrates the human spirit and resilience in the face of extraordinary odds and challenges. Taron Egerton, who made his feature film starring debut in Kingsman: The Secret Service, portrays Eddie the Eagle, and Hugh Jackman plays a ski jumping expert from Lake Placid who helps Eddie train for the Calgary Olympics.
Eddie the Eagle opens in theaters February 26th.