'Bumblebee' Will Be A Lower Cost 'Transformers' Spin-Off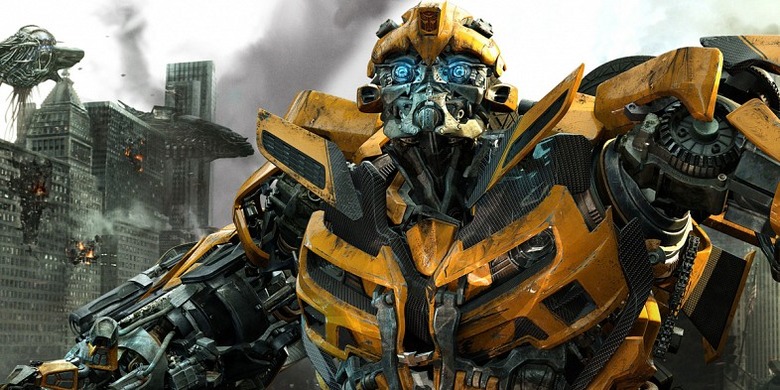 Last week Paramount unveiled its plans to make a new Transformers movie every year, copying Disney's plans for the Star Wars films. Transformers 5 is set for release in June 2017, to be followed by a film in the two following summers. It was reported that the second of those three films would be a spinoff featuring Bumblebee, again copying Disney's plans for a spin-off film every other year sandwiched in-between two continuing franchise movies. And now we've learned that the Bumblebee spin-off film will be a lower budget film. Find out the details, after the jump.
The details were revealed in an interview with Paramount Pictures chairman and CEO Brad Grey in The Hollywood Reporter:
There are characters in the Transformers universe that can be and should be made into their own movies. We will make the first movie with Michael and go right into a Bumblebee movie, which will be at a lower cost.
So it sounds like the Bumblebee movie will be more of a self-contained story, probably harkening back to a boy and his car from the original Michael Bay film, but adding the epic world-at-stakes consequences. And that's a good thing, as I think audiences are getting tired of this kind of thing — I know I certainly am. And films like Deadpool could suggest audiences are more interested in action films with personal consequences rather than the end-of-the-world kind.
Again, this is just my reading of it. It also seems that Michael Bay is only committed to directing Transformers 5, due out on on June 23rd, 2017. The Bumblebee movie arrives June 8th, 2018.
The trade article also seems to believe that the third film, set for release on June 28th, 2019, will also be a standalone spin-off movie and not a Transformers franchise sequel as originally reported.
The article also has another quote from Grey saying that they've "brought in a pretty strong writing staff run by Akiva Goldsman, and they have put together eight or nine interesting stories." He added, "So, between that group and Steven Spielberg's guidance on a story level, these characters are a big business for us to pursue."
What could the second Transformers spin-off film be about? The easiest guess is that it could be an Optimus Prime movie, considering he's the leader of the Autobots. But my guess is that Prime is going to be to the Transformers franchise films the same way the Skywalker family is to the Star Wars Saga films, and thus won't be a big part of the spin-off stories.
The Bumblebee spinoff is of course the first steps toward expanding the Transformers series into a Marvel-style shared universe. Rumors of a possible Bumblebee movie began to circulate last summer when Hasbro CEO Brian Goldner suggested, "We could see stories told around Bumblebee and other characters."