'Born To Be Blue' Trailer: Ethan Hawke Brings Chet Baker To Life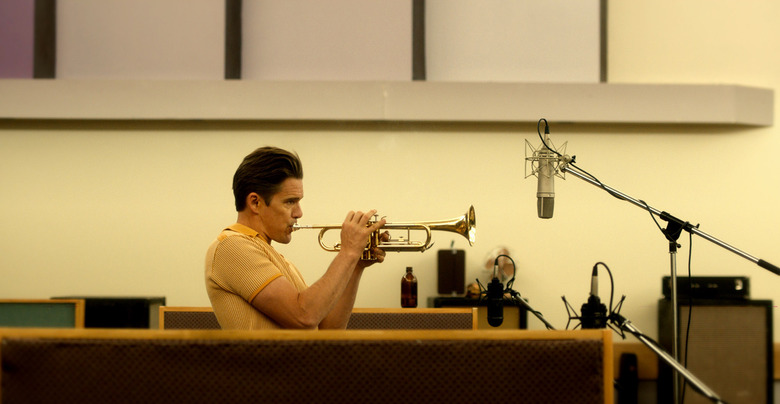 It looks like one of this spring's big cinematic themes is going to be heavily fictionalized not-quite-biopics about washed-up jazz legends staging unlikely comebacks. Just a few days before Don Cheadle's Miles Ahead hits theaters, IFC Films is releasing Born to Be Blue, starring Ethan Hawke as Chet Baker.
Directed by Robert Budreau, the film picks up with Baker in the 1960s. Though he was a big deal in the 1950s, his heroin addiction has taken its toll, demolishing his personal and professional life. But with the help of a new love (played by Carmen Ejogo), he finds the strength to try and dig himself out of the hole he's put himself in, and begin the climb back to the top. Watch the Born to Be Blue trailer after the jump.
Given that Miles Ahead is opening almost simultaneously, it's funny to see Davis pop up briefly as a character in the Born to Be Blue trailer. However, he's played by Kedar Brown, not Don Cheadle. Seems like a real missed opportunity to build a Marvel-style "jazz legends" shared universe.
Hawke is one of those reliably great actors, and charismatic but unreliable men seem to be his forte (as seen in everything from Reality Bites to Boyhood). Reviews out of TIFF, where Born to Be Blue premiered last year, suggest Chet Baker could go down as one of Hawke's finest performances yet. It's not hard to see why, based on the trailer — we get to see him play sweet and vulnerable and furious and fucked up, and everything in between.
Born to Be Blue opens March 25 in theaters and March 31 on VOD.
Ethan Hawke lights up the screen as jazz legend Chet Baker, whose tumultuous life is thrillingly reimagined with wit, verve, and style to burn. In the 1950s, Baker was one of the most famous trumpeters in the world, renowned as both a pioneer of the West Coast jazz scene and an icon of cool. By the 1960s, he was all but washed up, his career and personal life in shambles due to years of heroin addiction. In his innovative anti-biopic, director Robert Budreau zeroes in on Baker's life at a key moment in the 1960s, just as the musician attempts to stage a hard-fought comeback, spurred in part by a passionate romance with a new flame (Carmen Ejogo). Creatively blending fact with fiction and driven by Hawke's virtuoso performance, Born to Be Blue unfolds with all the stylistic brio and improvisatory genius of great jazz.