'Daredevil' Season 2 Trailer Unleashes The Punisher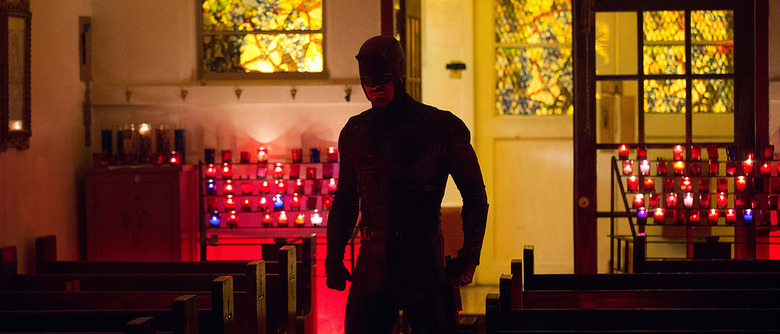 Superheroes who swear to clean up their cities rarely really succeed, probably because if they actually did there'd be no more story to tell. But it sure is fun to watch them try. After putting an end to Wilson Fisk's reign of terror in season 1, Daredevil will face a possibly even more terrifying adversary in season 2: the Punisher, played by Jon Bernthal.
The new Daredevil season 2 trailer offers a little taste of what Hell's Kitchen's newest vigilante has in store for our hero, and it doesn't look pretty. Despite the fact that they have the same nominal goal — protect Hell's Kitchen — the Punisher seems to have no use at all for Daredevil, whom he sneeringly dismisses as a "half measure" and a "coward." And when you get on the Punisher's bad side, horrible, painful things plan to happen. 
This Daredevil Season 2 trailer is all about the Punisher, with Elektra (Elodie Yung) only showing up for a teeny-tiny cameo at the very end. But with a "Trailer Part Two" promised for February 25, we can probably expect to see a lot more of the mysterious Ms. Elektra Natchios very soon.
All 13 episodes of Daredevil season 2 will hit Netflix on March 18.
Just when Matt thinks he is bringing order back to the city, new forces are rising in Hell's Kitchen. Now the Man Without Fear must take on a new adversary in Frank Castle and face an old flame – Elektra Natchios.
Bigger problems emerge when Frank Castle, a man looking for vengeance, is reborn as The Punisher, a man who takes justice into his own hands in Matt's neighborhood. Meanwhile, Matt must balance his duty to his community as a lawyer and his dangerous life as the Devil of Hell's Kitchen, facing a life-altering choice that forces him to truly understand what it means to be a hero.