Emily Blunt Jumps On 'My Little Pony'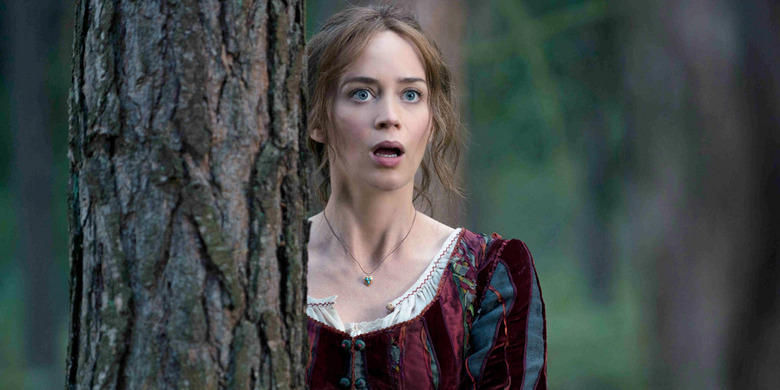 Hasbro's attempts to turn its toys into movies have yielded mixed results. For every Transformers, there's a Battleship — or worse, a Monopoly, which still hasn't managed to pass Go despite years of efforts. But there's a lot riding on My Little Pony, based on one of the hottest properties in its stable. So Hasbro and Lionsgate have enlisted a big-name star to guide the film to success. Fans will get to see Emily Blunt in My Little Pony alongside Kristin Chenoweth. 
In addition to Blunt and Chenoweth, My Little Pony will feature the voice cast of My Little Pony: Friendship Is Magic: Tara Strong, Ashleigh Ball, Andrea Libman, Tabitha St. Germain, and Cathy Weseluck. The story follows the "Mane 6" (i.e., Twilight Sparkle, Applejack, Rainbow Dash, Pinkie Pie, Fluttershy, and Rarity) as they face a new dark force threatening Ponyville. To save their home, they embark on an unforgettable journey beyond Equestria. Deadline reports Blunt and Chenoweth are both voicing new characters, and details on their characters have not been released.
Blunt has shown an admirable willingness to mix things up over the course of her career. She's lately developed a reputation as an action hero, thanks to films like Sicario and Edge of Tomorrow, but she also does indies (My Sister's Sister), comedies (The Five-Year Engagement), musicals (Into the Woods), and thrillers (The Girl on the Train). Heck, the last time we saw her, she was dressed up like a "gritty reboot" version of Elsa from Frozen and riding through CG landscapes on a freakin' polar bear. Why not add a My Little Pony movie to her eclectic resume?
Hasbro first launched its My Little Pony toy line in the 1980s. They were immediately successful, and over the years have spawned multiple animated series, direct-to-video features, video games, comic books, and the like. The Ponies have even hit the big screen once before, in 1986's My Little Pony: The Movie. Featuring the voices of Danny DeVito and Rhea Perlman, it was a critically savaged flop.
While the My Little Pony franchise has never really gone away, it did get a big boost in 2010 with the debut of My Little Pony: Friendship Is Magic. The series was a big hit with its target audience (little kids, especially girls), but it also gave rise to the "brony" fandom consisting of adult male devotees. And because this is the age of the internet, Rule 34, sadly, applies. Make sure your Safe Search is on if you've got little kids who might take a deep dive into Google's "My Little Pony" search results – or, heck, if you're just an adult who'd rather not have his or her day ruined.
Friendship Is Magic director Jayson Thiessen has taken the reins of the My Little Pony movie, which has a script by Friendship Is Magic writer/producer Meghan McCarthy. Paramount will release My Little Pony on November 3, 2017.