'Silicon Valley' Season Three Teaser: How Far Will Richard Go?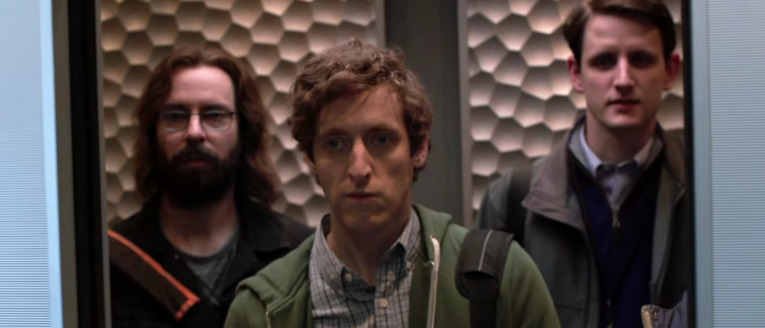 Season two of Silicon Valley did not disappoint. The episode where Pied Piper (minor spoiler alert) live-streamed somebody trapped at the bottom of a ravine? Wonderful. The season two finale ended things on a high note with a surprisingly suspenseful final episode. What's changed for Pied Piper since season two? Based on the Silicon Valley season three teaser, not much.
Last season  (Thomas Middleditch) was fired from Pied Piper, the company he co-created. After losing a majority of the stake in the company, he's let go as chief executive. How far will he go to get Pied Piper back? Hard to tell after watching this 30-second teaser, but it's clear Richard is still Richard, and the same can be said for Erlich Bachman (T.J. Miller, always a scene-stealer).
Here's the Silicon Valley season three teaser:
Middleditch, Miller, Zach Woods, Kumail Nanjiani, Martin Starr and Josh Brener play our tech heroes, and right from the start of the show, the casting just felt right. Some shows, especially during the initial season, tend to find their footing — but that wasn't really the case for Silicon Valley. The cast set the tone incredibly well, and their dynamic is arguably the main draw of the comedy series.
Even the guest roles are wonderful, most notably Russ Hanneman (Chris Diamantopoulus). This season Stephen Tobolowsky joins the show. I'm not sure who he's playing, but since it's Tobolowsky, I just assume it'll be good. Every actor is given something to do on this show. Few opportunities are wasted on Silicon Valley. You don't see Tobolowsky's face in frame, but that's whom Richard is talking to in that final scene.
It's impossible to even pick a most valuable player amongst this cast, because they all bring something different to the table. However, the one character I am the most excited to see return is Erlich Bachman. Miller always delivers in the role. Beyond just being incredibly funny, the character is strangely endearing, despite his ego.
Audiences can see Miller in theaters this weekend before Silicon Valley returns, as the actor has a supporting role in 20th Century Fox's Deadpool. As expected, the actor is very funny as Wade's buddy, and he actually brings some heart to the movie — which there's a surprising amount of in the filthy comic book movie.
I digress, but you really should see Deadpool this weekend, and not just for T.J. Miller. You can see Miller playing Erlich Bachman again in Silicon Valley season 3 on April 24th, though.