'Game Of Thrones' Season 6 Photos Tease A Happy, Fun Time For All (Just Kidding, Everyone Still Looks Miserable)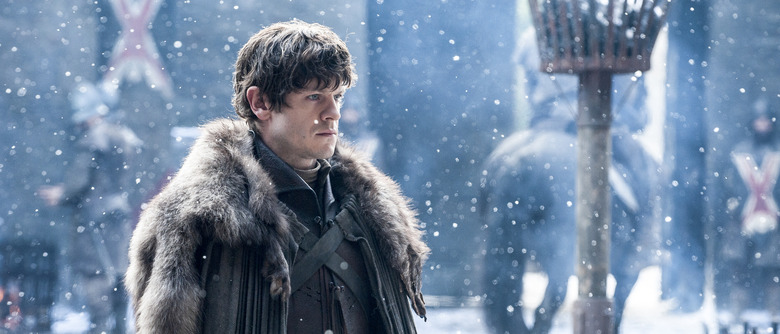 Although Game of Thrones fans have been begging for season 6 details since the minute season 5 ended, HBO's been pretty stingy about doling out any info. All they've released so far are some brief teasers amounting to a few seconds of new footage, a very fan-bait-y poster, and one measly photograph of Bran looking old enough to make us feel old.
That is, until today. Now that the season 6 premiere is just two and a half months away, it's time for HBO to ramp up its efforts to remind us of how very much we love this show, and how very excited we are for it to return. Expect a deluge of new marketing materials over the next several weeks, starting today with a big fat batch of Game of Thrones season 6 photos. Check 'em out after the jump. 
HBO dropped the Game of Thrones Season 6 photos on the Making of Game of Thrones production blog. You can browse through a few below and see even more over at their website.
Game of Thrones being Game of Thrones, these photos have been carefully chosen to make sure they don't give away too much. Mostly they just confirm that these characters are where we left them. Tyrion (Peter Dinklage) is still chilling with Missandei (Nathalie Emmanuel), Grey Worm (Jacob Anderson), and his favorite bottle of red; Daenerys (Emilia Clarke) is still hanging out outside looking dirty; Melisandre (Carice van Houten) is still skulking around the Wall; and Myrcella (Nell Tiger Free) still looks very dead.
Still, it's nice to see Yara (Gemma Whalen) and Bran (Isaac Hempstead-Wright) back in action, after sitting out season 5. The latter has even brought along a new friend, the Three-Eyed Raven (Max von Sydow). Interestingly, it looks like Bran is standing up. Could this be a photo from one of those flashbacks and flashforwards HBO has promised we'll get rom him this season?
And while Sansa (Sophie Turner) and Theon (Alfie Allen) seem to be exactly where we left them, some eagle-eyed fans have pointed out that she looks a little... off. Is she pregnant, or is it just a weird combination of her costume and her posture? For poor Sansa's sake, let's hope it's the latter.
If you came here hoping for new clues about the fate of Jon Snow (Kit Harington), well, you won't get them here — though that poster suggests the character's presence will be felt this season in some way or another. And other than von Sydow, we don't get much of  the new cast members, which include Ian McShane, Richard E. Grant, Essie Davis, Pilou Asbæk, and Freddie Stroma. (Game of Thrones is the kind of show that has to add a dozen characters at the start of each season to replace all the characters they killed off last season, and gods bless them for it.)
Game of Thrones season 6 premieres April 24.