Alexander Payne Returns To The Road To Direct Karl Ove Knausgård's 'My Saga'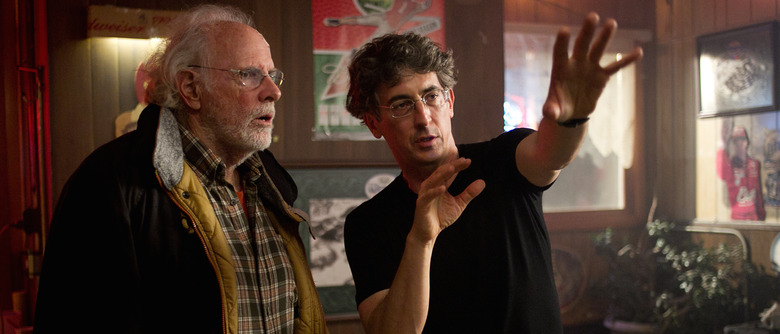 It's taken a few years, but Alexander Payne is finally getting close to the start of shooting on Downsizing, a high-concept comedy starring Matt Damon and Reese Witherspoon. When it'll open is still unclear — earlier reports indicated Paramount was eyeing a late 2017 release — but we do know Payne is already starting to make plans for the next film after that.
Payne, the director of Sideways, About Schmidt, and Nebraska, is looking to tackle another road trip movie. This one is based on My Saga a pair of articles written by Norwegian author Karl Ove Knausgård and published by The New York Times Magazine last year. 
Thompson on Hollywood reports Bona Fide Productions' Albert Berger and Ron Yerxa have picked up the movie rights to Knausgård's articles. Madeleine Ekman and Lizette Jonic at Zentropa Sweden will also produce. Payne is attached to direct. No writer is on board at this time, but Variety adds that the producers are looking for a Scandinavian screenwriter.
In his stories, Knausgård chronicled his attempt to trace the journeys his Viking ancestors might have taken, traveling from Newfoundland to Minnesota. His writing is full of dry humor and sharp observations. As Yerxa puts it, "There's comedy, cultural misunderstanding and absurdity in this piece." Said Berger, "Alexander's distinctive view of America merged with Knausgård's Norwegian sensibility seemed like a good match."
Indeed, Payne has done some of his best work on the road. He's got a keen eye for the little details that make America America, and for finding both the humor and the melancholy in his characters and their settings. Road trip dramedies seem to be a favorite of his, and it should be interesting to see how he handles Americana from the perspective of an outsider like Knausgård.
Berger and Yerxa previously teamed with Payne for Election and Nebraska. The pair's other credits include Little Miss Sunshine, Cold Mountain, and Little Children, and they are co-executive producers on the HBO drama The Leftovers.