Our First Look At One Of Star Wars Land's Rides?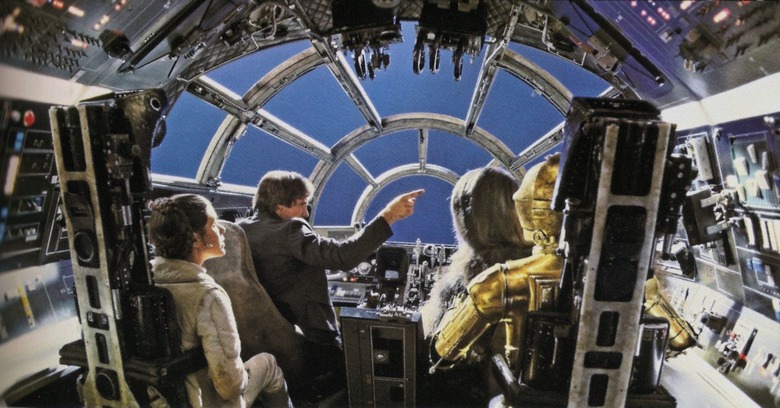 As we've told you previously, ABC will be airing a special titled The Wonderful World of Disney: Disneyland 60 on Sunday, February 21st 2016. Among many other things, it will feature Harrison Ford giving a preview of the Star Wars Lands coming to Disneyland and Disney World. A television commercial for the special was released online earlier this week, but did it contain our first look at one of the Star Wars Land rides? Hit the jump to take a look.
Here is the The Wonderful World of Disney: Disneyland 60 promo which premiered on EW.com:
Notice that after the announcer says "Star Wars Land" and the previously released concept art featuring the Millennium Falcon at Star Wars Land flashes across the screen, we get a quick two-second clip of this: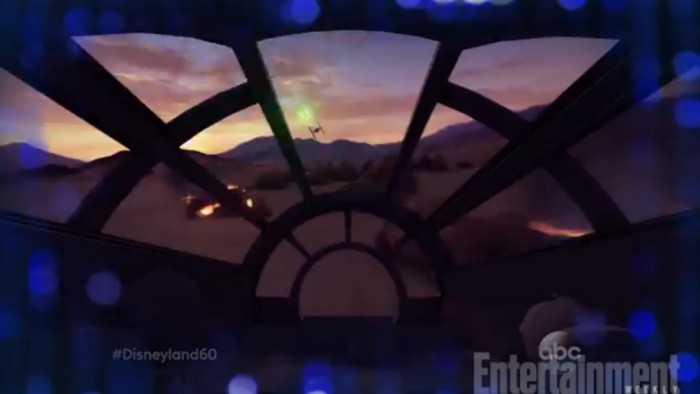 When Bob Iger announced Star Wars Land at D23 Expo 2015, he mentioned that the new land would come with "two fantastic signature attractions." One would be an "epic Star Wars adventure that puts you right in the middle of a climactic battle between the First Order and The Resistance." The other would give guests the ability to take the controls of the Millennium Falcon on a "customized secret mission."
The brief clip seems to show a motion simulator attraction that takes place in the Millennium Falcon cockpit, out-maneuvering TIE Fighters on a desert planet. We see some structure burning as we fly over, but it still doesn't clue us in to whether this is Jakku, Tatooine or some new planet on the Outer Rim. It also looks like there is an animatronic co-pilot sitting in the second seat.
Iger's use of the word "customized" has led many fans to believe that the ride experience will have different destinations or paths, kind of like how Star Tours: The Adventures Continue offers various destinations. But Iger also said that park guests would be able to "take the controls" of the Falcon, so will it be a truly interactive experience? I guess we'll have to wait until this Disneyland 60 special to learn more. But until then you can take a step back in time to rewatch Iger's Star Wars Land announcement:
The Wonderful World of Disney: Disneyland 60 will air on ABC on February 21st 2016 from 8 p.m. to 10 p.m. ET.