'10 Cloverfield Lane' Viral Begins To Reveal Backstory Connections To 'Cloverfield'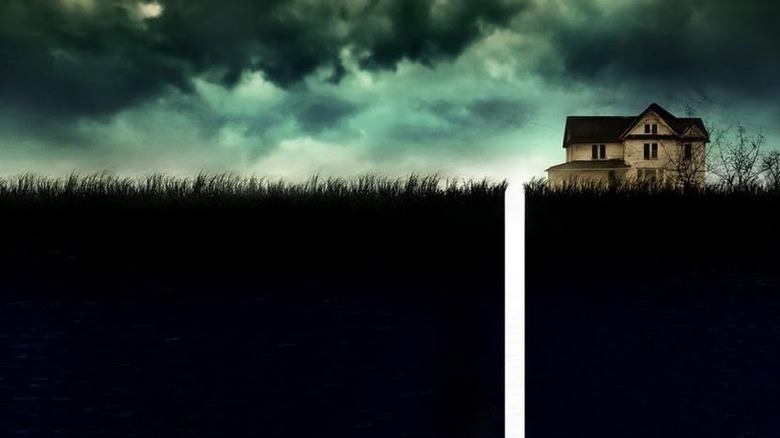 A viral campaign for 10 Cloverfield Lane has begun, and it seems to connect directly with the augmented reality game (ARG) for Matt Reeves' original Cloverfield. Earlier this month we explained how Tagruato (the Japanese drilling company that produced Slusho that was likely responsible for unleashing the Cloverfield monster on New York City) had new activity on the interwebs. Well, now the official company website has posted an update that directly connects the backstory for 10 Cloverfield Lane to the original Cloverfield. While I'm pretty sure that this backstory isn't explicitly explored in the movie, I'll let you choose if you want to learn more.
So let's first rewind to the ARG/viral campaign for Cloverfield: We learned that Rob was leaving the U.S. to go work for a Japanese company producing a popular frozen drink called Slusho. The drink was produced by a Japanese drilling company named Tagruato (who has since appeared as an Easter egg in other J.J. Abrams films like Star Trek). The drink's main addictive ingredient is called "seabed's nectar," which we suspected Tagruato was drilling from something at the bottom of the ocean. An environmental group called "TIDO Wave" was trying to stop Tagruato from drilling just as they opened the Chaui Station, somewhere close to New York City. A Tagruato whistleblower spy confirmed there was no oil on Chaui Station and that they were keeping a dark secret there. Days later the station was destroyed. Tagruato claimed that a terrorist group TIDO Wave were responsible, but were obviously trying to cover up what really happened. Had they awoken a monster?
As you can see from this quick recap, much of this story was not presented in the final film. Although the movie was filled with nods for those who participated in the viral campaign, enhancing the experience. So I assume the 10 Cloverfield Lane viral is doing the same thing. So what follows might not be spoilers, but could be backstory that helps explain some of the mysterious goings on in the upcoming movie.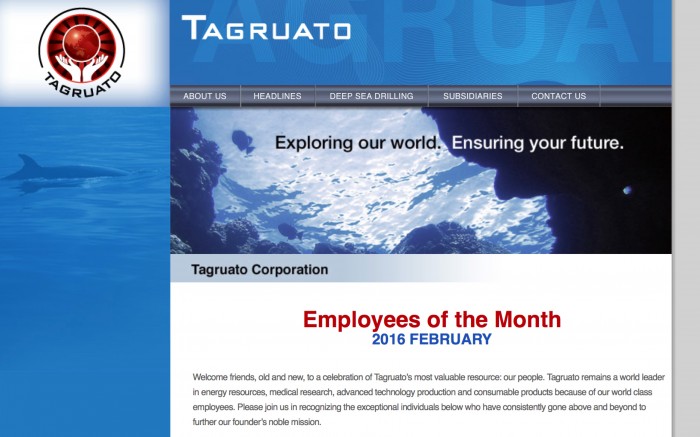 A new "Employee of the Month" page has popped up on the Tagruato website, updated for February 2016. The employee of the month for Bold Futura is Howard Stambler, i.e. John Goodman's character from 10 Cloverfield Lane. One of the subsidiary companies of the Tagruato Corporation introduced during the 2007 viral/ARG was a company named Bold Futura which was working on the "design, manufacture and integration of advanced technology products for the military, arms manufacturers and space exploration organizations." Here is what the website profile tells us about Howard: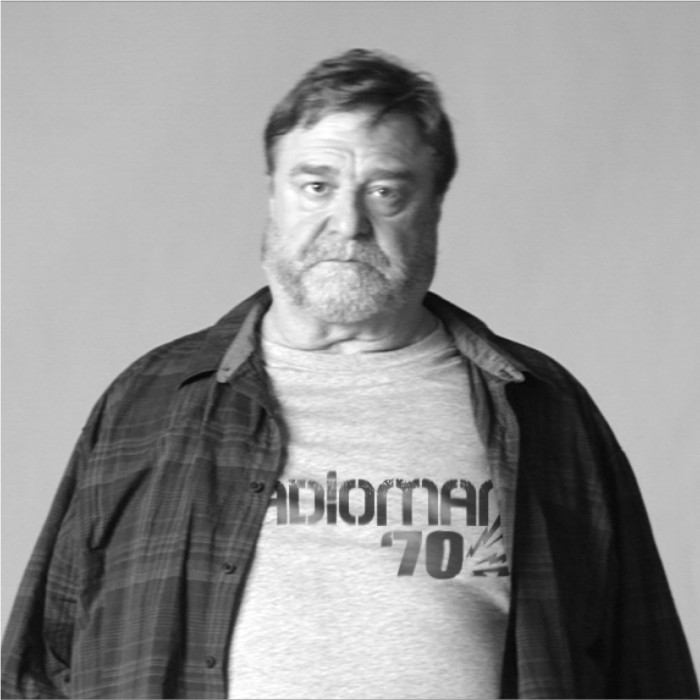 Bold Futura
Howard Stambler -
Telemetry Analyst
Howard will celebrate his seven-year anniversary with Bold Futura in the fall. This month, Howard's drive, commitment and refusal to accept easy answers resulted in a significant breakthrough diagnosing transmission complications with two of our governmental clients' orbiting satellites.
The current and past months' pages also feature photos and bios of Dr. Feng Guangbiao and Vanessa Gwon, who were the authors of the recent Tagruato e-mails. Stambler is wearing a t-shirt that says "Radioman '70", and DinosaurDracula on Reddit has discovered a website at radioman70.com.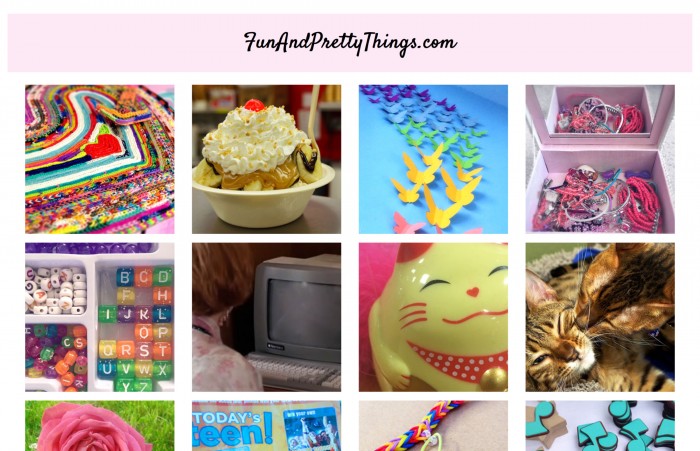 RadioMan70.com redirects to FunAndPrettyThings.com. CloverfieldClues has noticed the following about the website:
The photo with the letters is missing the following letters; M E G A N
If you try to "cheat" by viewing the source code for the page, there is a warning message: "You do not belong here. Megan would never come here. I know who you are and will be tracking you."
One of the photos is the Eiffel Tower, and there were a lot of Eiffel towers in the 10 Cloverfield Lane trailer.
But the most interesting is the photo of a girl sitting in front of a computer. The image is from the John Hughes movie Pretty in Pink. If you click on the image, a pops-up asks for a passphrase. Reddit user BriarrRose discovered the solution was the line from Pretty in Pink, "Do you want to talk?"

Entering the line of dialogue from the movie sends you to a secret message board where Radioman70 has posted a message to his daughter Megan warning her about an impending danger. Here is the message in full:
DEAR MEGAN,
I HOPE THAT YOU CAN SEE THIS NOW. IVE BEEN TRYING TO EMAIL YOU AND CALL YOU, BUT YOU HAVEN'T ANSWERED. IT'S OK, I FIGURED OUT WHY – YOUR MOTHER IS BLOCKING MY EMAIL, AND SHE MADE YOU CHANGE YOUR NUMBER. I FORGIVE YOU, IT'S NOT YORU FAULT.
I'M SORRY ABOUT HAVING TO DECEIVE YOU WITH THIS SITE, BUT I NEEDED TO FIND A WAY AROUND YOUR MOTHER'S INTERFERENCE, AND WERE RUNNING OUT OF TIME. NOW WE CAN TALK IN CONFIDENCE WITHOUT HER FINDING OUT. IT'LL BE OUR LITTLE SECRET.
I NEVER WANTED YOU TO HAVE TO LEARN ABOUT SOME OF THE THINGS THAT I KNOW BUT IT'S A FATHER'S JOB TO PROTECT HIS DAUGHTER, AND I NEED TO PROTECT YOU NOW. YOUR MOTHER NEVER LISTENED TO ME. THERE WERE THINGS I SAW, IN THE NAVY, THINGS THE SOVIET'S WERE INVOLVED WITH. SHE DIDN'T BELIEVE ME. BUT SHE WILL. EVERYBODY WILL.
DO YOU REMEMBER HOW EVERYBODY THOUGHT THE WHOLE WORLD WAS GOING TO END WHEN IT TURNED 2000, AND I BUILT US THAT LITTLE BOMB SHELTER OUT BACK? I DON'T KNOW WHAT I WAS THINKING – THAT TINY PLACE WOULD HAVE LASTED US ABOUT A WEEK, ESPECIALLY WITH HOW MUCH YOUR MOTHER COMPLAINED ABOUT IT, NO MATTER HOW MANY TIMES I TRIED TO MAKE HER HAPPY.
SO THIS TIME, I DID IT RIGHT FROM THE START. IT'S HUGE, SO MUCH BIGGER THAN WHAT YOU PROBABLY REMEMBER! BUT COZY! AND I FILLED IT WITH EVERYTHING YOU LIKE! WE'LL BE SAFE DOWN THERE, HOPEFULLY FOR YEARS IF WE NEED TO. BUT I NEED YOU TO COME TO ME AS SOON AS POSSIBLE. THEY MAY ATTACK ANY DAY NOW, SO THERE'S NO TIME TO WASTE.
I UNDERSTAND IT MAY BE HARD FOR YOU TO GET TO ME, OR THAT THERE MIGHT NOT BE ENOUGH TIME. SO I HAD ANOTHER SAFE PLACE BUILT – JUST FOR YOU. IT'S NOT QUITE AS BIG OR NICE AS THE ONE HERE, BUT IT WILL KEEP YOU SAFE. IT'S BEEN EXPENSIVE TO BUILD, ESPECIALLY SINCE I CAN'T BE THERE WATCHING OVER THE PEOPLE I HIRED AND MAKE SURE THEY DO IT RIGHT. BUT I'M PAYING THEM ENOUGH THAT THEY BETTER. BUT NO PRICE IS TOO HIGH FOR YOU. AND IT'S NOT LIKE MONEY'S GONNA BE GOOD FOR MUCH LONGER. IT'S RIGHT NEAR YOU IN CHICAGO – DO YOU REMEMEBER YOUR GRANDMA'S OLD HOUSE NEAR THE HIGHWAY? IT'S IN THE EMPTY LOT RIGHT BEHIND THERE. IT'LL BE FINISHED ANY DAY NOW. AS SOON AS IT IS, I NEED YOU TO GET INTO IT AND LOCK THE DOORS BEHIND YOU.
EVEN IF YOUR MOTHER IS WATCHING CLOSELY AND YOU CAN'T REPLY, KEEP CHECKING THIS SITE AND I WILL HELP YOU PREPARE AS MUCH AS I CAN.
I LOVE YOU, RADIOGIRL. I JUST WANT YOU TO BE SAFE.
LOVE,
DAD
The message is followed by a chat dialogue. If you type a reply in the chat, another window pops up asking if you are Megan. If you say yes, you are asked: "What was the secret gift I gave you on your 13th birthday?" No one has figured out the solution to this one. But this gives us some interesting backstory: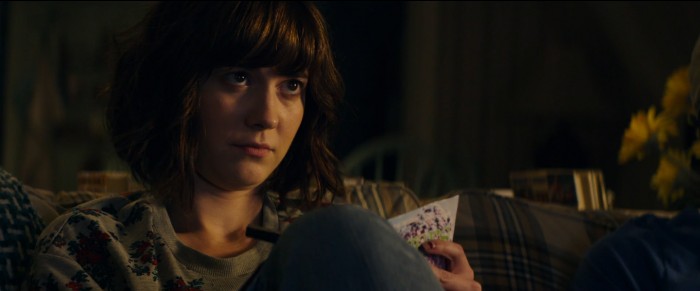 Howard Stambler's daughter Megan isn't allowed to talk to her father, and her mother has blocked his e-mails. So he created this site as a way to communicate to her and tell her that he has build, not one but two bunkers. A big one near his home, and a smaller one in Chicago, closer to where she must live. The bunkers are because "THEY MAY ATTACK ANY DAY NOW, SO THERE'S NO TIME TO WASTE." Who they are, we don't know.
Its also worth noting that Mary Elizabeth Winstead's character in the film is listed as Michelle, not Megan.